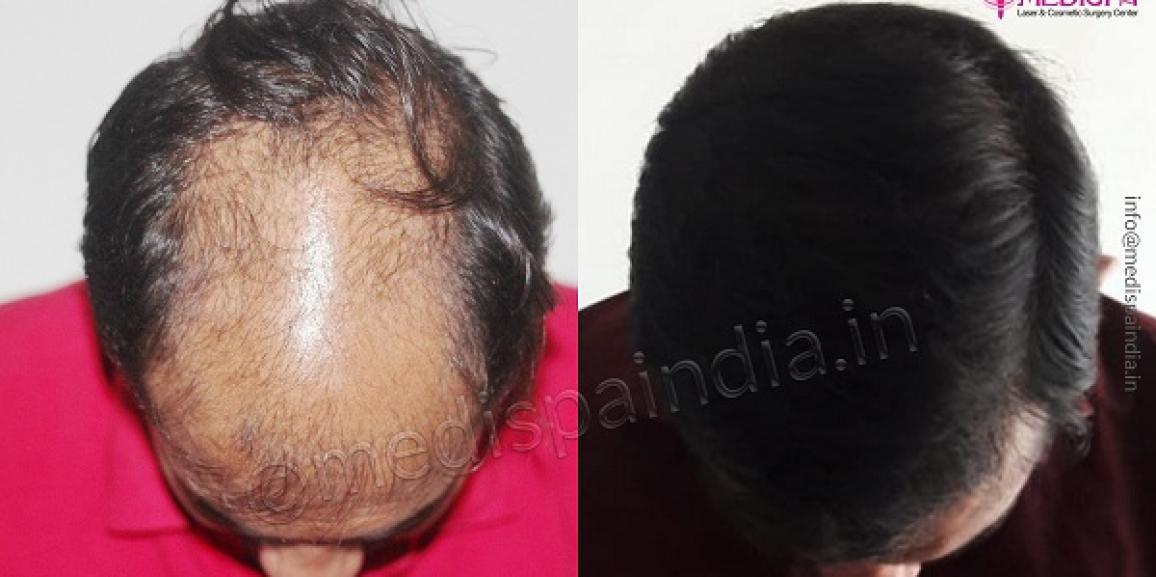 Pattern baldness also known widely as genetic baldness or androgenic alopecia happens on account of genetic dysfunction that results in oversensitivity of the hair follicles. The hair follicles which are DHT (Dihydrotestosterone) sensitive possess receptors for androgenic hormones and thus, as a result undergo hair thinning and miniaturization eventually leading to hair loss. Mostly the DHT sensitive roots are present at the frontal and vertex area and thus, usually the first signs of hair loss in men appear in that area. As a result there is a central bald area surrounded by band of hair in back and side of the head
The hair follicles at the back and side of the head are resistant to DHT and are not impacted due to  genetic influence. So, if these follicles are transplanted at any other location they can stay permanent throughout life and this is the idea behind natural looking hair transplant. Hair transplant in India is growing day by day because of this obvious reason that the results are more aesthetically appealing and naturally looking.
Hair loss or baldness dents the patient's life in more than one ways including personal, emotional, social and professional well being. We are all so habitual of seeing our hair as a part of our daily personality that the absence of hair or baldness can create a severe void in the way we see our own self.
Possible treatments to deal with pattern baldness?
Hair oils, shampoos etc: Usually, these are the first step that patients try to deal with baldness. However, the veracity of such cosmetic products is really doubtful.
Hair accessories: Many people resort to the usage of hair wigs, suction wigs or extensions to hide the bald patch. However, it is to be noted that these are temporary solutions plus they need high maintenance and continuous replacements after a fixed period of time. What is most disappointing is that the results are very unaesthetic and appear plugged.
Prosthetic hairs: They are more advanced then wigs as these can be customized and personalized for each patient. These hairs are professionally designed to appear more natural. But again they need constant replacement in a fixed period of time and thus, these are also temporary.
Medications: The two widely used medications to deal with hair loss are minoxidil and finasteride but the results from these are not permanent. The problem is said to relapse after the medicines are stopped. Also, like any other medicine, long term use of medications is never side effect free and thus, should be carefully administered.
Hair transplant: Hair transplant is a minimally invasive surgical procedure as described above and since the non-DHT resistant roots are transplanted at bald site, the resultant hair are natural and permanent. It is performed by one of the two techniques or in some cases with a combination of two techniques namely FUT (Follicular Unit Transplantation) and FUE (Follicular Unit Extraction)
Thus, as evident hair transplant is the only permanent solution to deal with pattern baldness.
Why Is hair transplant the best and permanent solution for pattern baldness?
Only Hair transplant can offer permanent results as patient's own DHT resistant hair follicles are transferred to the recipient bald area.
Hair transplant offers natural results which is undetectable and is not obvious to others.
Hair transplant has long term benefits in cases of progressive hair loss cases as the hair follicles could be preserved for future sittings.
Post physical recovery, the procedure does not need any major maintenance or replacement like other methods.
Hair transplant if performed by an experienced surgeon is a very safe procedure and usually there are no complications or morbidity of any sort.
Economical: Hair transplant cost in India is relatively lower and quite affordable given the quality of services available here. Depending upon the case and requirements the cost may range from a modest INR 60,000 to INR 400,000. This is only a fraction of what you will shell out in the US, UK or even UAE.
Medispa Hair transplant clinic, under the leadership of Dr. Suneet Soni has grown by leap and bounds over the past 20 years and has delivered more than 10000 successful hair transplant cases. It is a pioneer and a leader to deal with androgenic alopecia cases.  What makes Medispa different from the rest of the lot is its aesthetically perfect natural looking results and hence, it is widely trusted by several celebrities for their hair care. The clinic is equipped with world class facilities, hygiene and safety protocols similar to those found in the west. Dr Suneet Soni (Super specialized in surgery) is a world class surgeon revered in surgical circles for his precise surgical skills and artistic vision.
If pattern baldness or any other form of hair loss is your problem then be rest assured, Medispa Hair transplant is your answer!