"Welcome to Medispa"
India's Best Hair Transplant Clinic in Jaipur
Hair Transplant Photo Gallery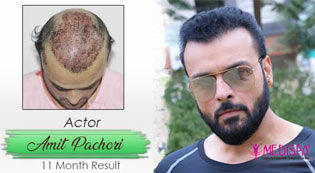 Mr Amit Pachori
Bollywood Actor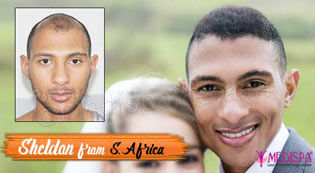 Mr Seldon
From : South Africa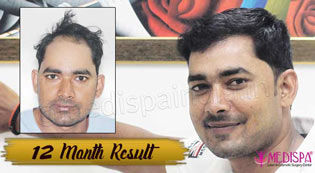 Mr Vipin
From : Jaipur, Rajasthan
About Hair Transplant Surgeon
Dr Suneet Soni (Plastic & Cosmetic Surgeon)
M.S., M Ch. (Plastic Surgery)
F.C.L.S. (Mumbai)
V.S.P.M.R.S. (Taiwan)
Member – ISHRS, ISAPS, AHRS, IAHRS, AHLA (American Hair Loss Association)
CEO: MEDISPA Laser and Cosmetic Surgery Centre, Jaipur, Delhi & Dubai
Hair Transplant Expertise:
Follicular Unit Hair Transplant (FUT/Strip)
FUE Hair Transplantation (No Root Touch Technique)
Combination (FUT+FUE+PRP) Hair Transplant
Body Hair Transplantation (BHT)
Moustache & Beard Hair Transplantation
Wrong Hair Transplant Repair
Female Hair Transplantation
Eyebrow Hair Transplantation
PRP Hair Loss Treatment
Experience
Dr Suneet Soni has been performing hair transplant surgery for more than 11 years as the main part of his practice at the MEDISPA HAIR TRANSPLANT Centre in Jaipur& Delhi (India). His expertise in giving the advanced FUT/Strip and the FUE hair transplant surgery. He has a large and trained team of expert technicians and staffs that help him in reaching the purpose of a successful hair transplant procedure.
"I came to Medispa as a bald man. Dr. Suneet have restored not only my hair but also my confidence. I am very happy with my hair growth. Thank you for the wonderful result!"
Celebrity Hair Transplant in Jaipur (India)
Bollywood Actor – Adi Irani Hair Transplant

Recently, a renowned actor Adi Irani got his hair transplant surgery done at Medispa and got fully satisfied with the services and facilities offered by the clinic.
Adi Irani contributed in the Bollywood industry as a character artist and known for his versatility in acting. Adi acted in the films like Welcome back, Raqt, wake up India, welcome, chori chori chupke chupke, Anari, beta and many more.
A few name of TV serials in which Adi Irani played are Yahaan main ghar ghar kheli, Naagin, Sssh phir koi hai etc.
Cost of Hair Transplant in Jaipur (India)
Medispa hair transplant clinics in Jaipur and Delhi are pioneer in performing the hair transplant techniques with advanced approach to deliver the best to the patients. Dr Suneet Soni is one of the best hair transplant surgeon in India who is recognized worldwide for his excellence in delivering the world class natural and aesthetic outcomes of hair transplant.
Estimated Hair Transplant Cost in Jaipur
Hair transplant cost in India is reasonably low despite the high standards which have made India a prime destination for hair transplant tourism. In India, Jaipur is one of the most preferred destinations for hair transplant because of the following reasons:
Jaipur is jeweled with world fame renowned hair transplant surgeons who are enlisted among the top ten surgeons around the globe.
The cost of hair transplant is very affordable when compared to other parts of India
Few renowned clinics have maintained world class standards as the patient footfall of international patients is very high.
There's always someone who charges less
Medispa Hair Transplant Specialty
Combination of FUT + FUE + BHT
Maximum Coverage
Medispa hair transplant clinic is well known to use all the advanced procedures including combination technique of FUT + FUE +BHT. Medispa hair transplant clinic is equipped with high quality latest technology armamentarium 0.75 mm punch surgical device which negates the scarring and delivers best possible outcomes.
Natural Looking Hairline Design
Natural Looking Hair Line Design
Now that people from all around the globe are coming to India for hair transplants as the best of equipment and surgeons are available here, Medispa Laser, Cosmetic and Hair Transplantation Center has become the epitome of success among all the other hair transplantation centers. With the World's top Hair Transplant Surgeon..
Hair Transplant Repair
Wrong/Bad Hair Transplant Correction
If you are looking for best failed hair transplant repair clinic in India, then Medispa hair transplant clinic is the best solution for bad hair transplant sufferers. Dr Suneet Soni is highly experienced in performing hair transplant repair cases and is regularly being approached by these kinds of patients.
Our Hair Transplant Services
PRP Hair Treatment
Hair Fall Treatment
At Medispa, under the guidance of world renowned hair transplant and cosmetic surgeon, Dr. Suneet Soni, high standard PRP hair loss treatment is provided at New Delhi and Jaipur centres. State-of-art medical facilities are available at Medispa to ensure international standard treatment..
Micro Pigmentation

SMP Treatment
Medispa Clinic in Jaipur offer best scalp micro pigmentation treatment in Jaipur, India for both men and women. We believe in utilizing high quality pigments and latest technology needles to perform the procedure. Including, special care is taken to maintain proper penetration depth…
No Root Touch Technique
Maximum Regrowth Rate
Medispa hair transplant clinics believe in constant improving their procedures and techniques and adopt the latest technology for the benefits of the patients. Dr Suneet Soni is highly deviated towards the research and development and is well versed with all the latest developments..
Medispa Hair Transplant Testimonials & Reviews
"I came to Medispa as a bald man. Dr. Suneet have restored not only my hair but also my confidence. I am very happy with my hair growth. Thank you for the wonderful result!"
While researching hair transplant, there are a various tools out there that can assist with narrowing down a research for a doctor you like and are comfortable with as well as finding a location close by and a price range you would feel comfortable with.
While nothing can replace a physical consultation with a doctor to understand the hair loss problems and what steps are recommended to correct it, using hair graft calculator will save you lots of time and help you to better understand what is needed to finally correct your hair loss.
One of these tools that can assist with understanding what costs you might be looking at when it comes to hair transplant is a hair transplant graft calculator.
International Recommendation