Female Hair Transplant
Around 33% of women experience hair loss at some point in their lives. Hair fall has become a common problem for women which has a greater impact on them as compared to men. Alopecia in women can severely affect their quality of life and emotional well being. Earlier hair transplant was typically associated with men but now it has become popular in women around the world. Nowadays more and more women want to lower their hairlines by increasing their hair density surrounding their face.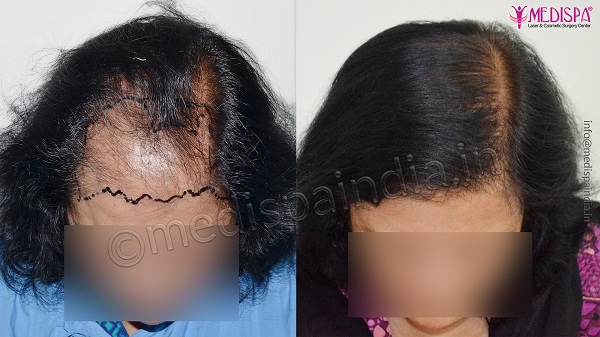 Hair loss pattern in female
When women face pattern baldness the growing phase of hairs slows down. Hair follicles shrink because of that hair that grows become thinner and finer. In this condition, hairs take lots of time to grow. Normally women lose around 50 to 100 hairs each day but women who face hair loss can lose more than that. Women have a different pattern of hair loss than men. Hair loss in men starts from the front of the head and recedes to the back until they go bald while women lose their hairs from all over their head. It is less likely that women become completely bald but women can have lots of hair thinning throughout their head. Female pattern baldness is typically divided into three types:
Type 1: When you face a small amount of hair fall around your part. It is the minimal thinning which can be camouflaged with hair styling.
Type 2: Your part become wide and there is an increased thinning around it.
Type 3: In this condition hair thinning is throughout your head with a see-through area at the top of the scalp.
Androgenetic alopecia or female pattern hair loss is the main type of hair loss in women. In women, androgenetic alopecia usually begins with gradual thinning at the part line.
Why Choose Medispa for Female Hair Transplant
Hair transplant is a sensitive and technical procedure, if by chance it goes wrong, it can give you a bitter experience for a lifetime. That is why it is important to choose the best clinic and surgeon for hair transplant to get the best results.
Medispa is one of the best clinics in India for female hair transplant. The clinic is known for its experienced and qualified transplant specialists. Here experience does not mean number of years in the field but the number of successful transplants. Medispa uses most advanced hair transplant techniques which provide natural and pleasing looks to women. The clinic is equipped with modern facilities.
Female Hair Transplant cost in Medispa
What is the cost of female hair transplant? is the 3rd most commonly asked question about hair transplant. And the answer is, at Medispa the cost of female hair transplant is between INR 70,000 and 250,000. The cost of hair transplant depends on the number of follicles grafted so it varies person to person. To know the exact cost, book an appointment with our specialists, who will first analyze your condition and then tell you the exact cost according to your requirements.
Cost of transplant also depends on several other factors including the technique of hair transplant like traditional strip harvest transplant is cheaper than modern Follicular Unit Extraction transplant.
Who needs it?
Women who need hair transplant have the following conditions:
• Traction and Trichotillomania alopecia: These are the chronic habitual disorders which are characterized by repetitive hair pulling that cause hair loss.
• Alopecia because of surgery, burn, or trauma
• Advanced female pattern baldness including hairline recession, vertex thinning, etc.
Hair loss in women can be because of several reasons including heredity, physical or emotional stress, hormonal imbalance, pregnancy, medical treatments such as chemotherapy or radiotherapy, and autoimmune disorders.
What are the techniques which medispa used for Female HT
Most commonly two techniques are used for female hair transplant
Follicular Unit Extraction (FUE): It is the most preferred hair transplant technique for small cases. In FUE method hair follicles are extracted from the donor area and transplanted to the recipient area. Hair follicles are implanted in the groups of one to four hairs.
Direct Hair Transplant (DHI): It is the most advanced hair transplant technique. DHT is the modified version of Follicular Unit Extraction technique. In DHI technique hair follicles are harvested one by one in the thinning area. Each hair follicle is placed in a specific angle, direction, and depth to give a natural look. Hair implanted with this technique continually grow and do not fall out. The method provides a more pleasant experience if performed with the right technique.
What is the procedure?
The procedure of hair transplant is technical and time-consuming. Female hair transplant usually takes 5 to 9 hours. Steps involved in hair transplant procedure are:
Extraction of hair follicles: The first step of female hair transplant is extraction of hair follicles from the donor site. Donor site can be your back side of your head, behind the ears, above the nape of the neck as these hairs are genetically programmed to resist testosterone.
Sorting of grafts: Once the follicular units are extracted, they are separated by size. Usually, a single follicular unit contains 1 -3 hairs. To create natural look it is important to separate single hair units from the multiple hair units.
Recipient site creation: After sorting grafts, recipient site is created to implant the grafts. Your surgeon designs the hairline which is appropriate for you.
Harvesting of grafts: Once the recipient site is prepared, hair follicular are implanted to get desired results. For a natural look, it is important to implant the hairs in a proper direction.
What are the precaution and guidelines for Female Hair Transplant?
Pre-operative guidelines
You have to follow some guidelines before the hair transplant surgery. Though these guidelines may vary according to the transplant techniques but some of the common guidelines are:
• Do not smoke at least 24 hours prior to the surgery.
• Do not consume alcohol prior to three days of the surgery.
• Massage your scalp at least for 10 minutes daily about two weeks before the surgery.
• Stop taking aspirin or any other anti-inflammatory medication two weeks before the surgery.
• Avoid blood thinning, antidepressants, and beta-blocker drugs two weeks before the surgery.
Post-operative guidelines
Though hair transplant is not a big surgery but it is advised to take some time off from the work after the surgery. Your surgeon will give you instructions and guidelines in detail but some common thing which you need to take care of are:
• Keep your head elevated on several pillows to avoid swelling.
• Keep your scalp dry especially on the first day of the surgery.
• Avoid strenuous physical activities for at least 3 days to prevent swelling and loss of grafts. After a week, you can resume moderate exercise.
• Avoid direct sun exposure to the scalp for more than 30 minutes at a time for the first 15 days. You can wear a hat while going out to avoid direct sun exposure.
• Do not hand wash your hairs for the first couple of days. You can take a low-pressure shower after four days of the surgery. After a week use a mild shampoo and gently rinse your head.
• Do not comb your hair for the first three days of the surgery.