If you have landed on this page while searching for hair transplant solutions then you have reached the last page that you would read about hair transplant on. All the questions and concerns that you have so far had in your mind are going to be answered here. After you have read everything on this page you might as well directly jump to the Contact Us section of Medispa to get a free online consultation
.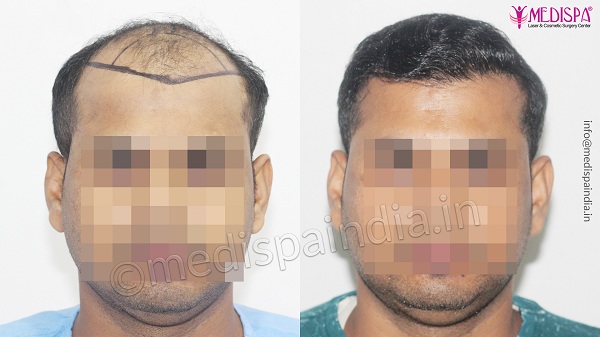 Why Choose Hair Transplant in Medispa
Medispa promises to give you a result so satisfactory that you would praise yourself for choosing medispa for your hair transplant. With an experienced team of Doctors and Specialists and a promising regrowth of more than 95% of hair along with the latest technologies and techniques used for hair transplants, Medispa is one of the most visited Hair Transplantation Centers both in Delhi and  Jaipur. Medispa has so far made a lot of people happy with the excellent results that the hair transplant specialists of Medispa have so far given. From natural looking hair transplant, a scarless treatment and numerous success stories to the repair of not so talked about failures of others where the hair transplants went wrong, Medispa provides everything you might need.
About the Doctors
Dr. Suneet Soni: With numerous awards and honors from various national and international institutes and organization, Dr. Suneet Soni stands as the best hair transplant surgeon in India. He has dealt with over 3000 cases of hair transplant procedures which involved both FUT and FUE. With over 2000 cases of Mega/ Giga transplants, he is one of the most experienced experts in the industry. The 11 long years of experience speak more about him and his astounding journey as a Hair Transplant Surgeon. The laurels that he has brought home and the accomplishments and achievements in the brief career of 11 years are unmatchable.
Why do you need a Hair transplant
Hair loss can be problematic and not everybody can pull off a bald look. When there are options available then it doesn't make sense if you choose to go for a bald look. Your appearance gets distorted in a way that you can't choose to ignore it. Your hair acts as a crown on your head and losing the crown is something that one can't afford. To find a permanent solution to all your existing hair-loss problems you need a hair transplant. If you have a persisting problem of hair loss and it can't be treated medically and you are tired of using all kinds of hair products then hair transplantation is the solution that you should consider. It will not only help you recover your hair but also give your personality a hint of aesthetic beauty and symmetric elegance. You can again start feeling comfortable and confident about
Techniques used in hair Transplantation
With the advancement in technology, new techniques and equipment are very common to find in the field of hair transplantation. The two major techniques used by Medispa in which the donor grafts are extracted are:
FUE :

Follicular Unit Extraction is considered one of the best ways used for hair transplantation because of several reasons. It doesn't leave behind any visible scar and the recovery time post-FUE is less than 7 days. There is no or minimum post-surgical pain or discomfort and the process can be completed in a single prolonged session or multiple small sessions depending upon the preference of the patient. FUE is known for the best natural looking appearance that it gives to the person who undergoes treatment with this technique.
FUT :

Follicular Unit Transplant is one of the traditional and trusted techniques and is considered to be better than FUE. It gives a completely natural look and the process is comfortable which doesn't take much time. FUT is also more affordable in terms of costs than FUE. Though the recovery time is 2 to 3 weeks it is still one of the best options to choose for a hair transplant that involves a greater bald area. The process is faster as compared to FUE and more than 4000 grafts can be transplanted in one session when compared to 1500 grafts in one session of FUE.
Cost of Hair Transplantation
The cost of hair transplantation nowadays is very affordable, especially in India. The rate varies anywhere from INR 1 to INR 7 per graft in both the techniques be it FUT or FUE depending upon the immensity of the recession of hair and the expertise and experience of the surgeon involved. As compared to the European countries or the US, the overall cost of hair transplantation in India is much lower. In fact, India is considered as one of the best options for hair transplantation and people from all around the globe prefer to come here for the same.
What are the prerequisites of Hair Transplantation
Good growth of hair can be only seen after at least 9 months of the procedure. The expected results may vary depending upon the body's reaction to the procedure. If done with proper care and precautionary measures the results can be really satisfying.
What are the Precautions we should choose before and after Hair Transplantation
Consumption of Alcohol should be avoided at least from 72 hours before the procedure.

After the procedure, it is advised to abstain from smoking for at least three days.

Intake of any thinners or aspirin should be avoided before the procedure as it may cause bleeding.

Sleeping with an elevated head after the procedure is advised.

Any heavy exercise or physical activity should be completely avoided for at least a period of 2-3 weeks.

You can start to have sex after 24 hours of the procedure and can resume walking and putting little physical strain on the body after 7 days.

Shampooing should be done is a very gentle manner and

In the first week Shampoo your scalp very gently

A hat or a cap should be worn before getting into direct and strong sunlight for the first few weeks.
yourself with this solution which has done wonders for numerous people.