Hair Transplant in Jodhpur
The hair transplant in Jodhpur has witnessed a remarkable rise in their demand, as the number of people suffering from hair loss has increased tremendously over the past few decades. It is surprising to know that a majority of people seeking consultation for hair transplant in Jodhpur are over 50 years of age and some of them may not have enough donor hairs for the transplantation. Due to this reason, the combination FUT+ FUE technique of hair transplant became one of the most accepted techniques of performing hair restoration surgery on a patient having a low number of donor hairs in the safe donor zone. Generally, a hair transplant surgeon performs the hair restoration by using either Follicular Unit Transplant(FUT) or Follicular Unit Extraction(FUE) technique individually.
The only difference between these two techniques of hair restoration surgery lies in the mode of extraction of the hair follicles. In Follicular Unit Transplant(FUT), a plastic and cosmetic surgeon harvests a donor hair strip from the back of the scalp. Whereas in case of a Follicular Unit Extraction(FUE), individual hair follicles are extracted with the help of an electronic punch that penetrates deep inside a layer of skin and extracts individual follicle from the safe donor area and sometimes outside the safe donor area.
But, what happens if a person does not have enough donor hairs in the safe donor zone or if the grade of baldness is higher? This is where the combined FUT+ FUE technique of hair transplant comes in. At present, many hair transplant surgeons in Jodhpur are performing hair restoration surgeries using this technique to impart aesthetic look to their patients. Let's discuss the important aspects related to this technique.
Which hair transplant procedures involve the use of combined FUT+ FUE technique?
The combined FUT+FUE technique is generally used when a patient does not have sufficient healthy follicles in the safe donor zone. In such cases, a plastic and cosmetic surgeon looks out for the donor hairs outside the safe donor zone. One such procedure that involves the use of combined FUT+FUE technique is the body hair transplant.
Body hair transplant is a rapidly evolving field in which a hair restoration surgeon try to find newer methods of restoring hairs on the scalp by using hairs from other parts of the body. Similarly, facial hair transplants such as the eyebrow reconstruction, beard and moustache hair transplant involve the use of combination technique to a large extent.
A need for combined FUT+FUE hair transplant–
The combined technique proves to be beneficial in cases as follows-
Patients who have good donor areas and wants to undergo Mega/Giga sessions of hair transplant which involves transplantation of around 5000 grafts in a single session to achieve a denser coverage in the recipient area. In this procedure, a surgeon extracts the maximum number of healthy hair follicles by harvesting a donor strip from the safe donor area with strip method and the remaining hair follicles are extracted individually by using FUE technique.
In case a surgeon wants to harvest a specific number of grafts, but don't want to limit himself to the number of grafts harvested along with the donor strip.
When a surgeon wants to perform a relatively conservative donor strip harvest with regard to the width of a donor strip, which allows a minimal tension while closing wound and appearance of the scar as a superfine line with the application of trichophytic closure technique. For instance, if a surgeon needs 2500 grafts to promote a maximum coverage to the area of the scalp affected with baldness and the strip harvested through FUT technique harvests around 1900 grafts, then the balance 600 grafts can be harvested by using FUE technique.
The combined FUT+ FUE technique is considered beneficial when a patient has limited donor supply and larger recipient areas and requires a maximum number of follicles to achieve a maximum coverage. It is one of the prominent questions of debate between the plastic and cosmetic surgeons that which technique of hair transplant is superior? Well, in reality, both the techniques hold advantages and limitations of their own kinds. Both these techniques are reliable for treating different grades of baldness. If a bald patch can be covered under four fingers of your palm, a hair transplant surgeon can recommend a patient to undergo FUE hair transplant. But when the area affected with baldness cannot be covered under four fingers of your hand, then your surgeon may advise you to undergo strip method of hair transplant.
Advantages of combined FUT+FUE method-
It allows a maximum possible coverage to the area of the scalp affected by baldness.
A patient can achieve the desired density of hairs by undergoing mega/giga sessions of hair transplant.
This technique allows a person to achieve aesthetic looks and densely-packed hair growth.
Cost of hair transplant in Jodhpur-
The cost of hair transplant in Jodhpur is one of the prominent questions that come from the patient's side. At the same time, it is important for you to understand that the cost of hair transplant differs for each patient as every scalp is different. The actual cost of hair transplant treatment in Jodhpur can be estimated by a plastic and cosmetic surgeon only after examining the condition of the scalp, finding a root cause of the problem, and determining the number of grafts required to promote a maximum coverage to the balding area. Some other factors on which the cost of a hair restoration surgery depends are-
The education and expertise of a hair transplant surgeon.
The number of hair grafts required to promote maximum coverage to an affected area.
The number of technicians & supporting staff, and their expertise.
The use of modern technology.
The hygiene and safety standards.
The repute of a hair transplant clinic.
Which is the best hair transplant clinic in Jodhpur?
Many reputed hair transplant clinics in Jodhpur are committed to delivering aesthetic hair transplant treatments to their patients. On another hand, you would like to undergo a hair transplant by best hair transplant surgeon and for this reason, you will need to do a thorough research on all aspects related to the procedure. Dr. Suneet Soni at Medispa hair transplant center in Jaipur is one of the eminent plastic and cosmetic surgeon, committed to delivering the best quality hair transplant treatments to his patients.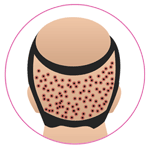 The FUE hair transplant is widely applicable in the case of body hair transplant (BHT), eyebrow transplant, moustache transplant or if there is a very small Norwood grade of baldness. Dr Suneet Soni recommends it in a very special purpose if there is need to cover the higher grade of baldness for that expert Surgeon applies the combination method of the hair transplant, i.e., FUT+FUE hair transplant also knows Mega/Giga session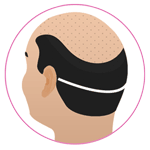 Dr Suneet Soni, founder of the Medispa Hair Transplant Centre, Jaipur, New Delhi (India) says that FUT is a Gold standard technique of hair transplant and if performed well by the skilled hands, supported by trained technicians and aided with the innovative and advanced equipment works, can cover a higher bald area in a single sitting without damaging any graft numbers.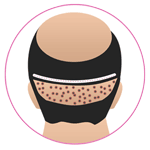 Dr Suneet Soni has expertise in performing hair transplant with any technique FUT, FUE or BHT with best results. He is well known to perform hair transplant with least damage rate of <1%. His judicious and holistic approach makes him take sound decision of choice of technique in the best interest of patients. .