Hair transplant in Jaipur has gained popularity and is in limelight for the best hair transplant surgeons of the world practicing in the city. Hair loss sufferers from all over the world consider Jaipur to be one of the most preferable destinations. Medispa clinic for hair transplant in Jaipur has gained worldwide attention and fame for its standard and world class facilities. We are accounted as one of the best hair transplant clinic in Jaipur and specialized for the best aesthetic hair transplant and hairline designing. The hair transplant cost in Jaipur we quote is budget friendly as per the international standards we maintain.
Hair transplant is an outpatient procedure which is intended to provide maximum possible hair coverage on the bald area or to rectify the flawed hairline if one needs to get an appealing look with the newer attractive hairline. This procedure has become a big success as advancements have made the procedure highly effective in achieving high aesthetics.
Hair transplant in Jaipur is a cosmetic surgical procedure which involves harvesting of hair follicles from the safe donor area and transplants them at the desirable recipient bald area. The feasibility of the procedure is assessed based on the availability of hair density at the donor area without violating the safe zones. Other multiple factors like medical status and complete examination of scalp to rule out the cause of hair loss are also crucial to confirm the candidature of the patient for hair transplant.
If you are looking for best hair transplant in Jaipur, then apparently Medispa hair transplant clinic is one of the most trusted and assured destinations. Book your appointment now for scheduling the consultation!
What is The Concept of Hair Transplant?
Hair transplant is a minor surgical procedure in which the hair are extracted out from the locations in your own body that offer permanent hair roots and then these permanent hair roots are transplanted at the desired recipient bald sites. The Permanent hair roots are those which are DHT resistant and are present mainly on the back and sides of the head or on other body parts other than the scalp. These DHT resistant hair roots stay permanent as they do not possess the receptors for the DHT hormone which is a metabolite of androgens. Therefore, these DHT resistant hair roots do not undergo any visible change like hair thinning under the influence of genetic dysfunction.
The genetic composition of the hair lie in their root and the hair root, wherever transferred takes this feature along. Thus, the permanent hair roots transferred to any desirable location would stay permanent and stay life-long.
SEE OUR PATIENTS REVIEWS
The best hair transplant clinic in Jaipur, India, no doubt. I got my HT done there by Dr. Suneet Soni. He is such a nice and an expedited Surgeon and he made my dream come true. He always finds time to reply us back whenever we text him. I got the best result so far. It's 9+ months after my HT and I got a head full of hair now. . I am more than surprised with the results. I am very happy now days because got desire density. My hairs have grown and look very nice. After years of research in Google and from other sources finally I decided there would be no better place than this. Very homely atmosphere and very nice attitude by the staffs too. Nice follow up too. They really deserve more than 5 golden stars.
Kamal Kumar, Jaipur (Rajasthan)


See More Reviews
How The Hair Transplant in Jaipur is Performed?
The hair transplant procedure constitutes many steps which are performed in single session and usually take 5 – 9 hours based on the choice of the hair transplant technique and the number of hair grafts harvested. Sometimes multiple sittings could also be required for patients with progressive hair loss and extensive baldness. However, advanced hair transplant techniques have made it possible for most of the cases to be treated in a single session. The various steps of hair transplant in Jaipur include:
Administration of local anesthesia at the donor and recipient area
Harvesting of the hair follicles from the donor area by any one of the hair transplant techniques: FUT and FUE
Preparation of the recipient site for transplantation by slitting
Transplantation of the hair follicles at the recipient bald site while taking special care of the aesthetics (Medispa clinic is renowned for its aesthetics abilities)
PRP injection therapy which can be advised for facilitating the hair growth of the newly transplanted hair follicles and for fastening the healing process.
Delivering the post operative instructions and performing regular follow up.
Medispa hair transplant clinic in Jaipur is renowned for its high success rate of the hair transplant and is well known to provide the best hair transplant in Jaipur with world class natural results. Dr Suneet Soni is a super specialized hair transplant surgeon in Jaipur with great experience of more than 20 years. More than 10000 success stories of hair transplant have been created by the Medispa team and the footfall is rising every year which is a big motivation for us to do even better and live up to our high reputation.
Meet Dr. Suneet Soni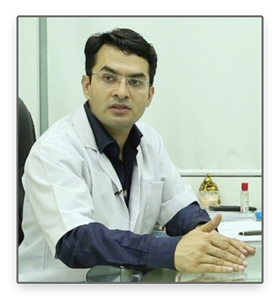 M.B.B.S
M.S.(General Surgery)
M.Ch (Plastic Surgery)
Dr. Suneet Soni have more than 15″ Years of rich experience exclusively in the field of hair transplant surgery, internationally trained, world renowned hair transplant surgeon, Founder of Medispa Hair Transplant Clinic, also member of international hair restoration forums like ISHRS, IAHRS, Hairfear, Hair Transplant Network etc.
Dr. Suneet Soni is greatly revered for having exemplary artistic sense and comprehensive surgical experience. He is popular among people looking for Hair transplant surgery globally. His scientifically based techniques for excellence in patient outcomes in Hair transplant have attracted celebrities and foreigners to be transformed at these centers. Dr. Suneet Soni specializes in FUT/ Strip, FUE, BHT (body hair transplantation), eyebrow transplantation, scar revisions, beard and moustache reconstruction, and hair transplant repair surgery.
INNOVATIVE AND ADVANCED HAIR TRANSPLANT TECHNIQUES WE PROVIDE AT MEDISPA HAIR TRANSPLANT IN JAIPUR:
Medispa hair transplant clinic believes in staying updated regarding all the innovative and advanced techniques to deliver the best hair transplant outcomes.
The hair transplant is performed using two modern techniques including:
FUT hair transplant technique (strip technique): FUT technique is performed by harvesting a thin strip from the safe donor area which is DHT resistant and then this strip is sectioned under high magnification for separating individual hair graft. These hair grafts are then transplanted at the recipient bald site taking care of hairline designing. We at Medispa hair transplant in Jaipur ensure the FUT technique with almost invisible donor scarring by using an advanced technique of suturing termed "trichophytic closure. FUT technique allows harvesting of approximately 3000 – 3500 hair grafts which is technique of choice in extensive bald cases.
FUE hair transplant technique: FUE technique for hair transplant In Jaipur is employed by pulling the individual hair grafts from the donor area assuming the location of the hair roots under the scalp skin. These extracted hair follicles are then transplanted at the recipient bald site. The scarring following this technique can be minimized by increasing the inter distance between extraction of hair grafts which delivers almost invisible scarring. This technique successfully extracts 2000 – 2500 hair grafts and is preferred for initial hair loss stages and facial hair transplant including beard, moustache and eyebrows.
Along with the above mentioned advancements in the techniques there are innovative techniques adopted by Medispa clinics explained as follows:
Combination technique of FUT + FUE: High density hair transplant in Jaipur is in demand and is desirable to all hair loss sufferers. This technique was developed keeping this objective in mind to provide maximum coverage even in extensive bald cases. This technique is successful in harvesting more than 4000 hair grafts and despite this there is provision of future sittings also. Dr Suneet Soni is specialized in performing this technique and is the one to introduce PRP therapy with combination technique of FUT + FUE hair transplant in Jaipur.
For best FUT + FUE hair transplant in Jaipur, why not come to the best hair transplant surgeon: Dr Suneet Soni whose astonishing surgical skills delivers the impressive hair transplant.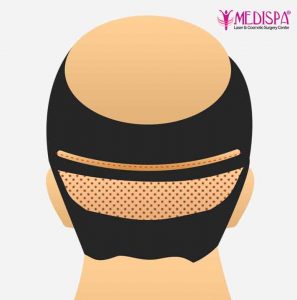 Combination technique of FUT + FUE + BHT: With the intention of minimizing the damage rate and achieving high density coverage, body hair transplant is successfully incorporated with the combination technique of FUT and FUE. Body hair transplant (BHT) is the procedure where the harvesting is performed from the body areas and not from scalp and then transplanted to the desirable locations. BHT has been incorporated to achieve higher yield of hair grafts. The hair follicles are preferably harvested from under the chin area which is also termed as "shadow area". Medispa Hair Transplant Clinic in Jaipur uses the best high standard armamentarium to perform this procedure. A 0.75 mm punch is used which harvest the hair grafts without visible donor scarring. This technique provides the high density hair transplant in single session with pleasant outcomes.
COST OF HAIR TRANSPLANT IN JAIPUR
Hair transplant in Jaipur is very cost effective as compared to other parts of India and apparently the western world countries. The mast crucial factor deciding the cost is the number of hair follicles required to cover the bald area. Other important factors include type of hair transplant, hair transplant techniques, sex of the patient and reputation of the hair transplant clinic and the surgeon. The cost of hair transplant in Jaipur varies from 60,000 – 400,000 INR based majorly on the number of hair grafts required. Per graft model is the commonest to quote the cost of hair transplant in Jaipur which varies from 30 – 125 INR as per the reputation of the clinic.
The cost of hair transplant in Jaipur at Medispa clinics varies as follows:
| | | |
| --- | --- | --- |
| Grade of baldness | Number of hair graft required | Approximate cost quoted |
| Grade II to VIII | Doctors Qualification, Technique used & Donor Area | 30-125 INR Per Graft |
RECOVERY FROM HAIR TRANSPLANT
Hair transplant is an outpatient minimally invasive surgical procedure which does not lead to morbid situation. Patients can effortlessly resume their work from the nest day of the procedure. But it is mandatory to follow the strict instructions prescribed by the hair transplant surgeon for a minimum of 7 days. After hair transplant surgery you can be physically recovered in 7 – 10 days.
There are few short term complications which arise after the procedure and subside within a week without much intervention. These short term complications include:
Swelling is a common complication which involves majorly forehead and sometimes extends till eyebrows.
Itching is also common after hair transplant which subsides on its own within a week.
Mild pain is associated after the hair transplant which subsides within 3 – 5 days but if you want to get it soothed then you can take prescribed pain killers.
Numbness could possibly occur after hair transplant which takes months to resolve on its own.
Infections are very rare followed by hair transplant only when either the procedure is not performed under aseptic conditions following surgical protocols or the after care is not followed properly.
Medispa clinic is well known to provide the best hair transplant in Jaipur with prioritizing the hygiene and safety standards to avoid any sort of unwanted complications.
Hair growth after hair transplant:
Hair transplant is widely rumored to be a procedure which delivers immediate outcomes which is impossible to achieve. This procedure needs months of wait to receive the results which will be surely worth the wait if the procedure is performed by expert surgeon. The timelines for transplanted hair growth include:
Few days after hair transplant all the transplanted hair will shed off which is normal phenomenon and has to happen. This incidence could be a shocking one for all who undergoes the procedure.
3 months after the procedure you can see the evidence of hair growth which will be scanty in the beginning but widely distributed after according to the survival of hair grafts.
After 6 months you can see appreciable amount of hair growth which will surely bring confidence and happiness.
Complete hair growth can be seen after a year that's when you can clearly say that whether your hair transplant is the best one or regretting.
WHY TO CHOOSE MEDISPA CLINIC FOR HAIR TRANSPLANT IN JAIPUR?
Medispa clinic is one of the most leading clinics for hair transplant in Jaipur and our success lies in the hard work and dedication of our team which is an asset for us. Each of our staff makes sure to deliver the best and desirable results to the patients. Medispa clinic could be preferred for various reasons as we are competent in every parameter which is looked in the best hair transplant clinic in Jaipur.
Dr Suneet soni: the head of Medispa clinics is one of the best hair transplant surgeons worldwide and well known for his unique quality of designing natural looking hairline.
We have the biggest in house team of hair transplant in Jaipur, India.
We are known to have huge infrastructure with best facilities, latest technology armamentarium and state of art operatory
We believe in maintaining strict hygiene and safety protocols with proper regular fumigation in the operatory, sterilization of armamentarium and disinfection of inanimate objects.
We make sure to perform every step under German based high loop microscope.
We prioritize usage of advanced techniques which is in the best interest of the patient in delivering the best hair transplant outcomes.
Despite all the world class facilities and maintenance of international standards we are highly cost effective.
Dr Suneet Soni is one of the best hair transplant surgeon in Jaipur who is pre eminent around the globe for excellent surgical skills and appreciable artistic sense. He is specialized in designing extremely natural hairline which is undetectable. His unparalleled skills to perform hair transplant assured the maximum possible density hair transplant with best natural looks.
For any queries book your appointment now with Medispa clinic.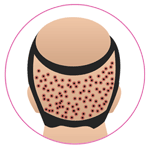 The FUE hair transplant is widely applicable in the case of body hair transplant (BHT), eyebrow transplant, moustache transplant or if there is a very small Norwood grade of baldness. Dr Suneet Soni recommends it in a very special purpose if there is need to cover the higher grade of baldness for that expert Surgeon applies the combination method of the hair transplant, i.e., FUT+FUE hair transplant also knows Mega/Giga session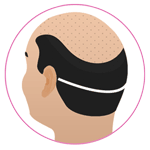 Dr Suneet Soni, founder of the Medispa Hair Transplant Centre, Jaipur, New Delhi (India) says that FUT is a Gold standard technique of hair transplant and if performed well by the skilled hands, supported by trained technicians and aided with the innovative and advanced equipment works, can cover a higher bald area in a single sitting without damaging any graft numbers.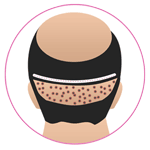 Dr Suneet Soni has expertise in performing hair transplant with any technique FUT, FUE or BHT with best results. He is well known to perform hair transplant with least damage rate of <1%. His judicious and holistic approach makes him take sound decision of choice of technique in the best interest of patients. .
FREQUENTLY ASKED QUESTIONS
Q1: Who all can opt for hair transplant surgery?
Ans: Hair transplant is a surgical procedure and not a mere cosmetic procedure which can be performed on all hair loss patients if the feasibility is confirmed. The candidature of the procedure could be confirmed after complete scrutiny and assessments during the consultation appointment. The medical history and thorough examination of scalp is performed followed by which the candidature for hair transplant is committed
Q2: How does hair transplant provides long – lasting results?
Ans: Yes, hair transplant is the only procedure for hair loss which offers permanent results and natural looks too. The concept behind this is harvesting of DHT resistant hair follicles which does not possess the receptors for androgens. Therefore, it does not undergo hair thinning by genetic dysfunction. These DHT resistant hair follicles stay permanent and thus are preferred to be transplanted at the desired recipient bald site. These hairs wherever transplanted would attain the characteristics of their roots and stay for life time.
Q3: How to choose the best hair transplant surgeon?
Ans:    With the advent of digitalization it has become easy to surf and look for any possible query. But with the gaining popularity of the procedure, the hair transplant industry has become over saturated and every clinic claim them to be the best. Therefore, you will surely have multiple alternative options for hair transplant but you need to be diligent enough to find the best out of them all. It is surely not justified to choose a cheaper hair transplant surgeon and experiment on your health and well being. The various factors which should be clearly judged when looking for the best hair transplant surgeon include:
Qualification of the surgeon
Experience, skills and expertise
Reputation of the hair transplant surgeon and the associated clinic
Facilities provided by the clinic and its infrastructure
Latest technology adopted by the clinic
Hygiene and safety protocols
Cost effectiveness
Q4: What are the complications associated with the hair transplant procedure?
Ans: There are very few complications associated with the hair transplant procedure which are short term and subsides on their own mostly within a week without much intervention. These complications include:
Swelling which is usually unavoidable and extend till forehead or sometimes up to eyebrows.
Scalp freckles or crusts which are formed surrounding the newly transplanted hair follicles.
Itching which occurs commonly and is usually bearable
Mild pain
Infection which occurs rarely only when the proper asepsis is not maintained during the surgery or improper after care.
Numbness which might or might not occur and subsides in few months
Scalp pimples which forms at the transplanted area and are beneficial showing the sign of hair growth
Q5: Is hair transplant procedure scar less?
Ans: Scars followed by any surgical procedure including hair transplant is inevitable. After hair transplant these scars could be minimized by using recent innovative approaches and choosing the expert surgeon who can perform the hair transplant with precision. If the hair transplant is performed by FUT procedure then the suturing is done using "trichophytic closure" that provides almost invisible scarring. While performing FUE technique each hair graft is pulled from a greater inter distance that ensures almost invisible scarring. Therefore, these measures could provide almost invisible donor scarring which could be hidden easily under the existing hairs.
Q6: Is hair transplant a successful procedure?
Ans: Apparently hair transplant is a very successful and the most effective hair loss treatment modality which offers the permanent outcomes. The results look extremely natural as the procedure uses your own hairs. These transplanted hairs grow without any maintenance and follows the same pattern as the natural hairs. The texture, color and thickness are exactly similar as those existing hairs as the transplanted hairs are your own. But to achieve all this you need to find an expert hair transplant surgeon to perform the procedure.
Q7: Why Medispa clinic for hair transplant in Jaipur?
Ans: Medispa clinic is undoubtedly one of the best hair transplant clinic in Jaipur, India. Our thousands of happy and satisfied patients are vital proofs who vouch for our excellence. We are the biggest hair transplant team in India which has high patient footfall from all over the world. Dr Suneet Soni is one of the most approached hair transplant surgeon based on his specialty to deliver the natural looking hairline.