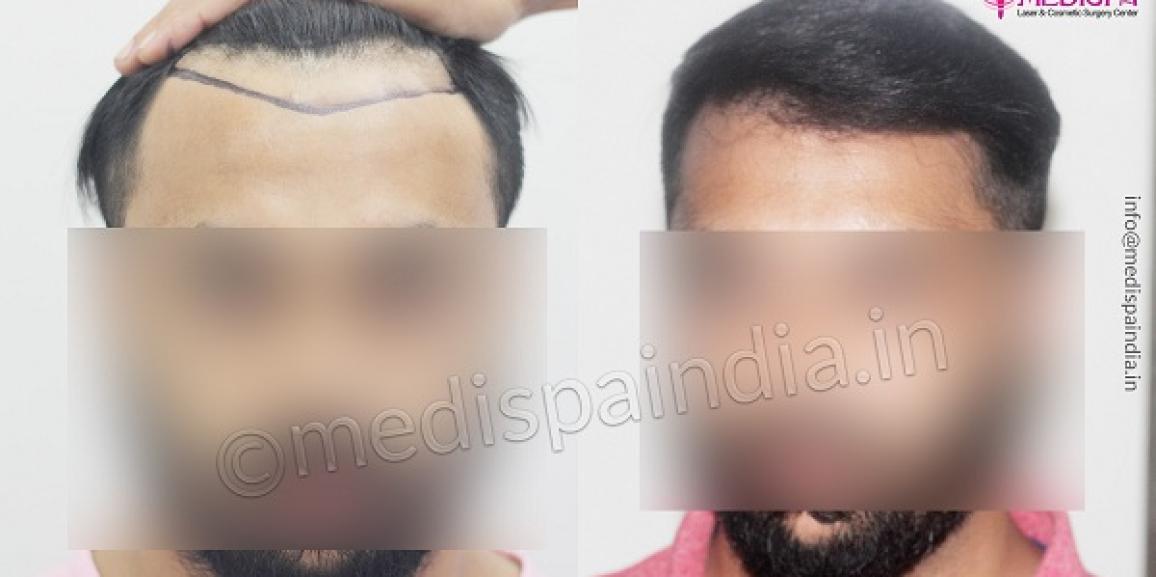 Most men usually confuse or mistake male pattern baldness with daily hair loss. Hence, when they notice some loss of hair, they don't think it to be a big deal! Then, one fine day, men realize that the hair around forehead has thinned, or there is a visible bald patch!
With changing lifestyles, pollution, smoking increasing stress levels and other reasons, there is a palpable increase in the hair loss as these issues exacerbate the absolute causes of hair loss and enhance the effect of it. If, the hair loss is temporary, then it could be treated by a healthy lifestyle coupled with a good diet. However, if the hair loss is permanent, then it calls for medical intervention to decipher the symptoms, understand the case, find the cause and accordingly offer a treatment which may involve a hair transplant or hair restoration procedure. Actually, Male Pattern Baldness is a proven leading cause of depression in men and more so, when the hair loss is high on Norwood Scale
Male pattern baldness
Male pattern baldness or Androgenic Alopecia, the term signifies the hair loss due to genetic dysfunction. This largely occurs due to oversensitive hair follicles which witness changes in response to androgenic hormones. Under the presence of these hormones, the aforesaid hair follicles that are sensitive often undergo thinning and miniaturization which eventually leads to Hair Loss or baldness. Hence, the baldness which most men think to be overnight is actually a gradual process.
The hair loss which happens because of genetic reason involves the front and the vertex areas of the scalp and does not affect the back and sides of the head. Hence, this pattern commences with a receding hairline or a bald patch at the vertex area which grows on the scalp and progressively leads to Hair loss and leaving behind a band of hair a the back an sides of the head
What is Norwood Classification?
The Norwood scale categorizes the hair loss in men in seven stages. It measures the stage of male pattern baldness with 1 as the lowest level and 7 is the highest level of balding. The Lower the score, the higher are the chances of protecting your hair.
It is understood that male pattern baldness initiates with the recession of the hairline, hair thinning on the top of the scalp, and then enlarged bald patches.
Hair Restoration for treating male pattern baldness: is it the right solution
As mentioned earlier, there is a clear need of surgical intervention if there is Permanent hair loss due to genetic reasons. To manage the same, these days multiple options are advertised, communicated and available in the commercial world. People mostly during initial days of Hair loss treat it as temporary hair loss and wait for it to self correct however, it should be clear that if it is a permanent hair loss then it will not stop on its own.
Wigs, hair patches and prosthetic hairs are usually considered as the first go to option by most people who are unaware of the more aesthetic and natural looking procedures such as Hair Transplant. Most men consider wigs, hair patches and prosthetic hair as these options are economical, provide fast immediate results. However, there are few major drawbacks associate with these options and these are high maintenance leading to frequent replacements, high long run cost and daily hassle. But most importantly is that the results are clearly identifiable as unnatural with a plugged look. Thus, these methods are not usually kept as an option for long term. Medications are also prescribed to prevent Hair loss, however, a major drawback with medications is that as soon as the medicine is stopped Hair loss resumes.
Then, what is a permanent natural looking solution?
Answer is simple, Hair transplant or Hair restoration as the result is permanent and natural looking. The procedure relies on the transfer of the permanent hair roots to the desired bald area which stays permanently for life time. Next aspect is cost effectiveness i.e Hair Transplant Cost in India, it is to be noted that cost of Hair transplant in India is very economical as compared to western counterparts and the cost in India is usually 20-25% of its western counterparts.
What to expect in Hair Restoration procedure
It involves harvesting of the hair grafts from the donor area which are harvested outside the body and then planted at the desired bald site. Since, donor area is expected to provide Hair follicles, it is important that the donor area should have sufficient count of hair follicles to enable transfer at the desired bald area. The duration of the procedure is around 4 – 8 hours basis the quantity of the hair grafts to be harvested and the techniques used for the procedure.
Benefits of hair transplant
Permanent Results
Natural looking results which can be possible when the procedure is performed by the surgeon competent with artistic sensibility.
Long term hassles are less as compared to temporary solutions
Hair transplant procedure involves no major side effect and is largely pain free
So visit Medispa hair transplant clinic straightway to have the complete solution of hair loss under one roof by expert hair transplant surgeon: Dr Suneet Soni with incredible results. He has performed more than 10000 successful surgeries in the past with over 20 years of experience. His patient testimonial list seems to grow day by day!