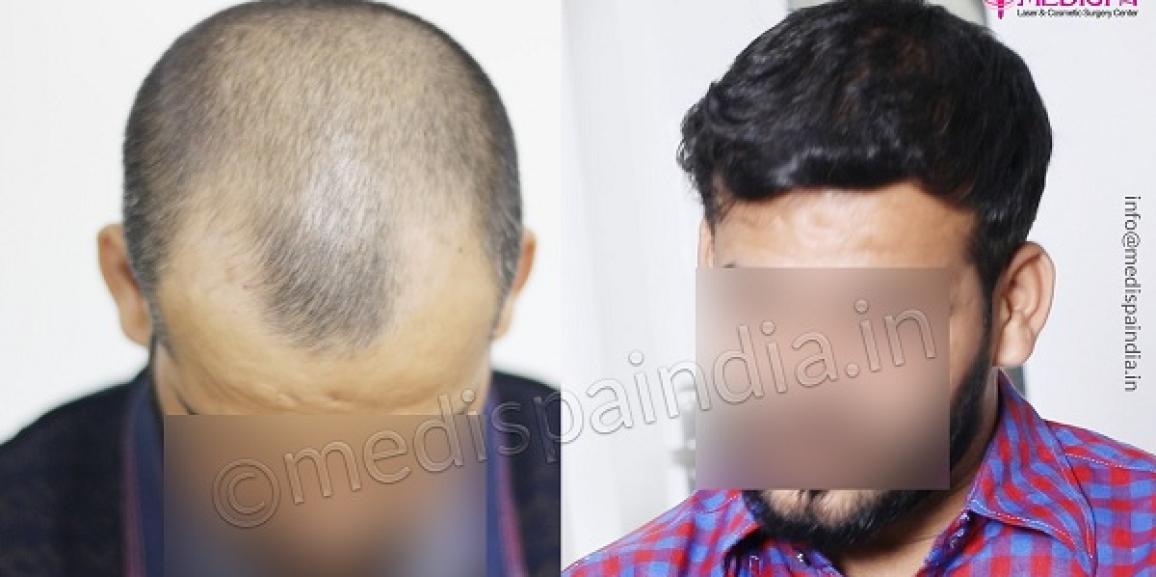 It is true that breakthroughs are being made in every area of medicine to make the operations better for you. Similar circumstances apply to the field of hair transplantation and other cosmetic operations because they both called for perfection and are now getting closer to it thanks to improvements.
Similar to this, as the science develops, patient desires also grow. The majority of patients, including those with severe baldness, seek out high density hair transplants. Earlier, it was not conceivable using the rudimentary methodology, but now it is definitely possible to achieve such outcomes with the advanced and creative methods. With the development of cutting-edge technology, it is now highly likely to be possible to obtain a hair transplant that looks completely natural. Therefore, our process has gone above and beyond to provide you the best and most amazing results.
Hair transplant in Jaipur has changed this profession in India by producing exceptional results and creating a standard in the hair transplant industry.But did you know that in addition to having a thriving industry, hair transplant cost in Jaipur also has been very reasonable? Medispa hair transplant clinics are without a doubt the top clinic for hair transplants in Jaipur. We are the ones who provide hair transplants with excellent results. Our goal has always been to give everyone of our patients a smile and a fantastic hair transplant.
The International Society of Hair Restoration Surgery (ISHRS), International Society of Aesthetic Plastic Surgery (ISAPS), International Alliance of Hair Restoration Surgeons (IAHRS), Association of Plastic Surgeons of India (APSI), and Association of Hair Restoration Surgeons are just a few of the international societies that Dr. Suneet Soni is an active member of (AHRS). In order to get the best results in the patients' best interests, he keeps up with the developments in this field. In addition, he incorporates these developments into his routine practise.
Therefore, Medispa hair transplant clinic is the ideal choice if you're looking for an advanced hair transplant that could deliver results beyond your expectations.
What are the ways to perform hair transplant?
One of two techniques can be used to transplant hair: transplanting hair (FUT and FUE)
In most cases, FUT hair transplant involves the removal of some skin from the sides and back of the head. After that, the strip is taken to a lab for further dissection so that each hair graft can be extracted. Under extremely high magnification, the acquired hair grafts are implanted in the suitable bald region. A unique trichophytic closure approach is used to close back the donor region. Using this method, about 3000–3500 hair transplants were successfully harvested.
During a FUE hair transplant, single hair grafts are harvested using a punch surgical tool. To correctly and damage-free recover the single hair follicle, the punch is inserted into the skin of the donor area at a specific angle. Because each hair graft removed by pulling is a little sensitive, it must leave the body as quickly as possible. As a result, the process turns into a blinded procedure that, in the hands of a novice, could cause the loss of more hair grafts. Using this technique, approximately 2000–2500 hair transplants may be harvested.
When should you choose FUT hair transplant?
A FUT hair transplant may be the best choice in a number of scenarios. Let's examine a few advantages of FUT hair transplantation.
When hair loss is severe and a high yield of hair follicles is needed, FUT hair transplant is advised.
FUT hair transplant is the best choice when a high-density hair transplant is necessary.
Since FUT hair transplants can produce more hair grafts in a smaller area, they may be the best choice when the donor area is insufficient.
FUE is favoured for the best results in some situations, while FUT may be a better method in others. Undoubtedly, a reputable and competent surgeon would suggest the finest procedure for you. Visit the Medispa hair transplant clinic for a real and stunning hair transplant.
The patient's circumstances are taken into consideration when choosing the hair transplant procedure. But in order to achieve the finest outcomes, it is crucial for the doctor to select the appropriate method.
Consider whether you choose a reputable clinic for your hair loss.
To have the greatest hair transplant experience, schedule your consultation with a Medispa clinic in Delhi or Jaipur right away.