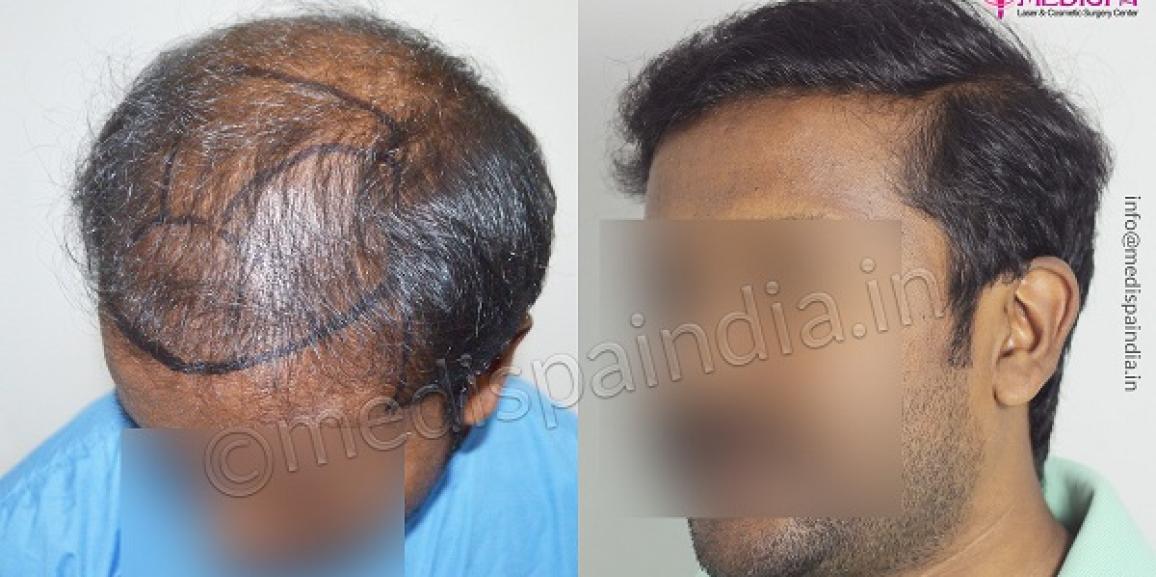 Hairs grow in cycles, and as one matures and becomes old, it falls out and is replaced by a brand-new hair. Hair loss results when hair falls out more often than it is replaced by new hair. The most significant factor in hair loss is inherited, often known as androgenic alopecia or male or female pattern baldness. The use of hot equipment (hair straighteners, hair curlers), hot baths, stress, chemical straightening, tight braiding, hormonal changes after menopause, medicine (anti-depressants, anti-anxiety, and anti-psychotics), lack of sleep, and poor diet are some other causes of hair loss.
It is preferable to conduct thorough study before putting your blind faith in any doctor if you're seeking for the best hair transplant techniques and physicians to execute them. In the age of digital importance, searching for anything looks simple. However, it is getting harder and harder to believe whatever someone says because of the growth of digital marketing methods. Therefore, it's a terrible idea to rely on marketing efforts because they could provide you bad outcomes even when you invest a hefty sum.
Finding the right hair transplant surgeon for you may be the most difficult task, but it also seems to be the most important one. You only need to sit back and relax for the assured acceptable results if you have chosen the greatest hair transplant surgeon and are confidence in the surgeon. Therefore, it is essential to do a thorough search for a hair transplant surgeon rather than making a snap selection.
It is advised not to chase after a cheap hair transplant and fall prey to the alluring discounts since these procedures are typically shown to be lethal and harmful for the results of the hair transplant and even for your health and wellbeing. So it makes sense to invest once in a hair transplant that will offer you satisfaction and confidence for the rest of your life.
A hair transplant is an outpatient operation that includes moving hair follicles from a donor location that is safe and DHT resistant and then transplanting them into the bald area of the recipient. Only when the donor region's hair density is sufficient to adequately cover the bald area can the treatment be carried out.
Particularly in Jaipur, which has emerged as the center of hair transplant clinics, hair transplant in Rajasthan has gained a lot of popularity. Few really well-known hair transplant doctors in Jaipur receive a lot of patient traffic from all over the world. The hair transplant cost in Rajasthan has even encouraged more patients to go to the state's most famous city, Jaipur, for their procedures.
Finding the best surgeon in Rajasthan
Here are a few guidelines and recommendations for selecting the top hair transplant surgeon in India:
Check the surgeon's credentials: Nowadays, we can utilize the internet to quickly search for anything with only one click. It is preferable to invest the time in looking for a surgeon's credentials rather than looking up deals that hair transplant clinics are offering. If you use the internet wisely and use it to learn about the training, experience, and skill of the hair transplant surgeon, it may be a blessing.
The surgeon's experience: In any discipline, experience makes a significant difference in the results. However, it has a significant influence on the medical industry since dealing with life should never be compromised. This might be a crucial factor in determining a surgeon's level of skill, along with their years of experience and the number of successful surgeries they have completed.
Verify the experience and results of previous patients: It is usually preferable to have the chance to research the outcomes and opinions of prior patients in order to verify the surgeon's legitimacy. The ideal situation would be for you to witness the outcomes firsthand or hear about past patients' experiences.
Your comfort level with the staff and surgeon: If you choose the specific clinic, you should feel at ease talking to the staff and surgeon about a variety of topics. This is a crucial issue to take into consideration. Additionally, a kind and supportive team will be at your side during the process to make it a pleasant and reassuring experience.
External feedback and authority confirmation: You may simply contact the medical board for information if you want to validate the credentials and status of the surgeon.
Like any other medical operation, hair transplantation requires a lot of attention and careful consideration since, although successful outcomes are a "dream come true," a botched procedure might end in the worst nightmare. You could thus benefit from taking your time to locate the best choice.
One such hair transplant centre that you can unquestionably trust for your hair transplant is Medispa. We meet all criteria you may use to discover the best hair transplant clinic, from the qualifications of our surgeon to the kindness of the supporting personnel.