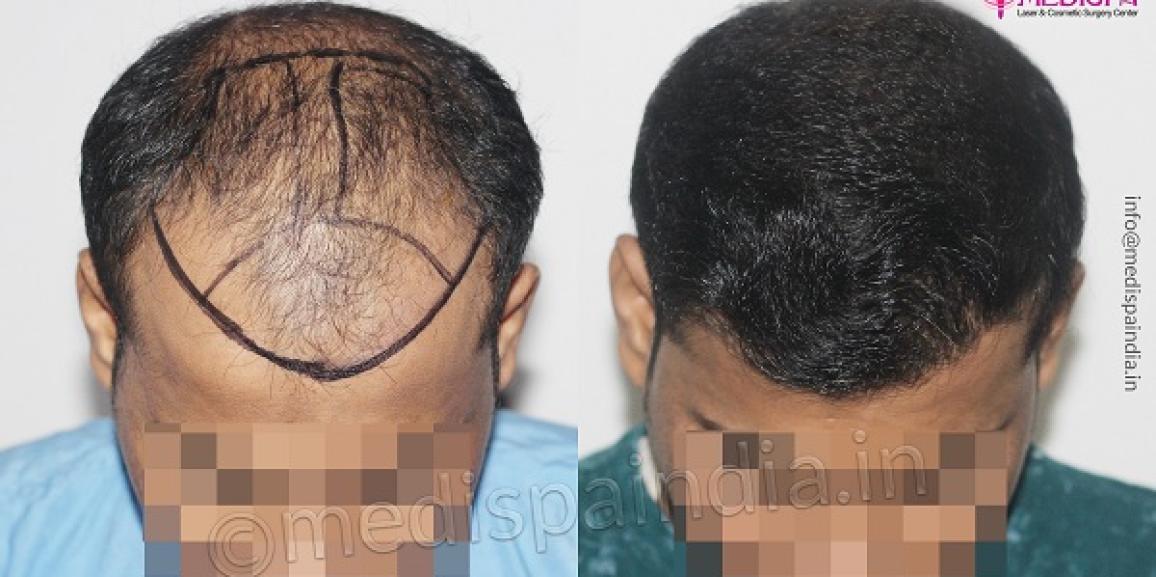 Hair loss is a widespread issue that has gotten a lot worse recently. The quality of life and mental health of those who experience hair loss are affected. Pattern baldness, also known as "androgenic alopecia," can be brought on by genetics, hormonal imbalance, systemic disease, trauma, or long-term use of specific drugs. Men and women both experience hair loss, but men experience it more frequently. Baldness patterns differ between men and women.
Male and female hair loss patterns
A receding hairline or a patch in the vertex area are two signs of hair loss. As hair loss worsens, the bald spots converge to form a larger bald area. In the most advanced stages of hair loss, the entire scalp can be bald, save for a thin strip of hair that is still present at the back and sides of the head. Women's hair loss, on the other hand, typically starts as thinner hair in the middle of the head. Although the gap widens over time, it rarely results in complete baldness.
Approaches to treating baldness
Let's now examine some possible remedies for receding hairlines:
Medication and topical therapies: Finasteride and minoxidil, two common baldness medications, are widely available. It speeds up hair growth while slowing down the process of hair loss. When the drugs are stopped, the effects could stop or even turn around.
Wigs and prosthetic hair: These are short-term remedies that can mask baldness, but they need to be replaced frequently and require a lot of maintenance. They seem out unnatural, making them simple to identify.
Hair transplant procedures are by far the most effective choice if you're looking for a long-term fix for your hair loss issue. The results of a hair transplant are undeniably long-lasting. Finally, it's possible to maintain a natural-looking hairline while experiencing maximum hair growth. Using hair roots taken from the donor area during the hair transplant procedure, the bald area is repaired. The areas of your body where permanent hair roots can be found are referred to as the donor area. The hair roots from these areas are removed, and each one is then transplanted to the appropriate bald spot. The procedure effectively hides the bald spot and yields results that look natural.
Hair transplant: What is it?
A minimally invasive surgical procedure called a hair transplant involves removing hair follicles from the donor area of the scalp and transplanting them to the target bald area. In this procedure, hairs are moved to the bald area from an area that is not affected by male pattern baldness. It is incorrect to think of a hair transplant as a regenerative procedure that could regenerate lost hair follicles. In reality, the procedure is purely restorative and ensures that the bald area is covered by moving hair follicles.
Cosmetic hair transplant surgery is a highly precise, technique-sensitive procedure that requires expert hands to produce an aesthetic result.
Hair transplant techniques
According to the graft harvesting process, which is differentiated between these two modern hair transplant techniques:
FUT (Follicular Unit Transplantation, also known as the strip technique): This technique involves harvesting a small strip, which is then sent to a room designated for graft segregation so that it can be further dissected and the individual hair grafts can be removed. The chosen recipient's bald area is then transplanted with each of these individual follicular grafts.
FUE (Follicular unit extraction): This procedure uses a surgical tool that resembles a punch to remove individual hair follicles. The recipient bald areas are then given these transplanted hair follicles.
These methods each have their own specific uses and restrictions, so they are chosen based on the circumstances. If the appropriate technique is chosen for the situation, both of these methods are known to produce good results. Age, sex, the number of follicular grafts needed, the degree of baldness, and the amount of hair density present in the donor area are just a few of the many considerations when selecting a hair transplant technique.
Is a hair transplant the best treatment for baldness?
Yes, without a doubt, hair transplantation is the best treatment option for hair loss due to its many benefits over the other treatment options described in the previous section. The benefits of hair restoration surgery include:
Since DHT resistant hair follicles are transplanted at the recipient's bald site, hair transplant procedures offer permanent results that last a lifetime.
Depending on the surgeon's talent for hairline design, the hair transplant procedure produces incredibly natural results.
The hair follicles that were transplanted are your own, and because they grow in exactly the same way and have the same growth cycle as your natural hair, they don't need to be maintained.
You can resume your regular work the day after the hair transplant procedure because there are no side effects during or after the procedure.
Hair transplant procedures offer long-term advantages, including the possibility of future sitting in complex and progressive hair loss cases.
Medispa hair transplant clinic is your one-stop shop for the best hair transplants available. We are industry leaders in the field of hair transplantation and renowned for our top-notch, international hair transplant results. One of the most well-known and renowned hair transplant surgeons in the world is Dr. Suneet Soni. His thorough research in the area of hair transplantation has received the majority of the praise, and he has been honored at both national and international conferences.