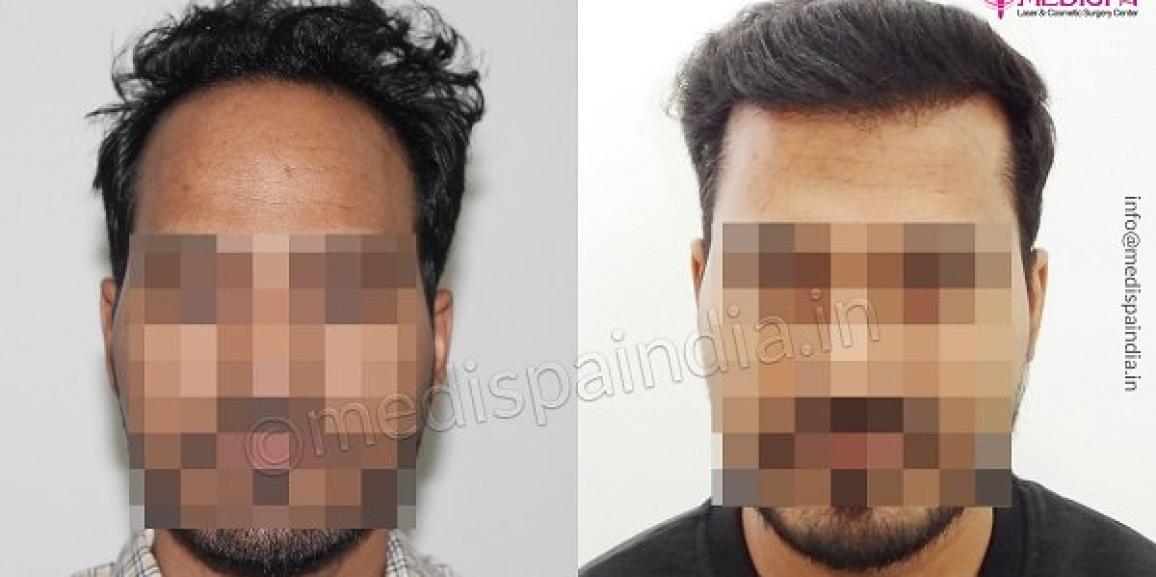 These days, there is more interest in the best way to deal with hair loss due to the rising prevalence of hair loss. Whether to use a hair transplant or less sophisticated techniques like prosthetic hair? The patient's mind is constantly occupied by questions like these and many more. Options like artificial hair and hair transplants are widely available in the realm of digital media, social networks, and even print or other forms of media. The obvious question that follows is: Which operation is best for you, and how should it be carried out?
In this post, we attempt to discuss two choices' fundamental therapy techniques. In order to make it easier for you to choose, we will list 1) Prosthetic Hair and 2) Hair Transplant.
Option 1)  Prosthetic hairs
A non-surgical method that is tailored to a particular patient includes prosthetic hairs, often called as patches or hair patches. The patch is surrounded by skin from the scalp, and it resembles a mass of hair composed of a specific substance. It is intended to seem indistinguishable and merge in that way. The artificial hair or real human hairs are put into the film of specialised material according to the geometry of the bald region. Hair patches may appear incredibly natural, depending on the calibre of the particular material employed.
The patient's natural skin colour and hair colour are typically strongly correlated with the hair structure and colour. Since the entire patch is air breathable, you may wear it when swimming, taking a shower, or at night. The need for replacement, however, recurs every six to twelve months or so.
Prosthetic hair preparation involves a number of stages, including:
After obtaining an impression, the molding procedure is carried out to create the basis.
A hypoallergenic, neutral, biocompatible, and inert substance or cloth is used to prepare the basis.
The hairs are positioned according to how the particular bald spot looks.
Option 2) Hair transplantation
An outpatient minimally invasive surgical treatment known as hair transplantation includes collecting hair grafts from the donor region that contain permanent DHT resistant hair follicles and transplanting them to the target bald area. Since only the patient's natural hair is used throughout the treatment, the results are both permanent and extremely natural appearing. Additionally, the donor location from which the follicles are extracted needs to have an adequate density and quality of hair follicles. Depending on the amount of hair grafts required and the technique used, the surgery might take up to 4 to 8 hours. The surgery is carried out using the FUT and FUE hair transplant procedures. Each patient chooses one of these approaches according on their circumstances and needs, and they all have different graft harvesting procedures. Following therapy, full outcomes often take 10 to 18 months to manifest.
Is hair transplant better than prosthetic hairs? Why?
Based on the effectiveness of the treatment and the results, the hair transplant surgery would unquestionably receive more votes if we evaluated the two surgeries. The following list of distinctions between hair transplant techniques and artificial hairs is explained:
Invasiveness: Hair transplant operations are hardly ever invasive and have no lasting side effects. After the treatment, you can get back to work. Contrarily, non-invasive methods are used to apply artificial hair.
Permanent results: Hair transplants produce results that are permanent, whereas artificial hair results may be temporary or semi-permanent.
3. Natural appearances: Both hair transplant techniques and synthetic hairs can produce outcomes that seem natural. However, even the highest grade synthetic hair might be recognised by the audience, which is absolutely uncomfortable.
Replacements: Following physical recuperation, hair transplants do not require maintenance or replacements, whereas artificial hair requires ongoing care and replacements every 6 to 12 months.
Since 2005, the Medispa clinic for hair transplant in Jaipur has been offering top-notch results and services on an international level. We are renowned for our brilliance. One of the top hair transplant surgeons, Dr. Suneet Soni offers world-class, naturally seeming outcomes after hair transplantation along with a consistently high success rate. We provide top-notch services at affordable hair transplant cost in Jaipur.
Make a reservation for a fantastic hair transplant at the medispa hair transplant clinic in Delhi and Jaipur now.