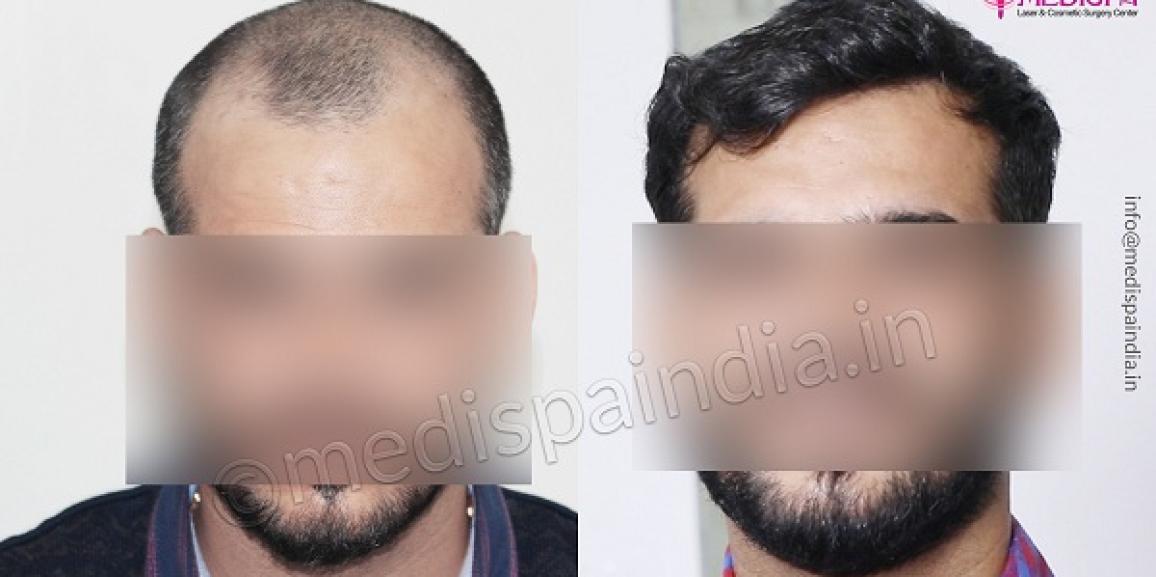 Finding a qualified and ideal hair transplant surgeon is your most difficult task when you decide to get the procedure. Once you have completed your search for the finest hair transplant surgeon for you, you can rest and rely on the results of your procedure.
Hair transplant surgery is a minimally invasive surgical treatment that requires outstanding abilities and in-depth knowledge to get the necessary satisfied results. It involves harvesting or removing the follicular grafts from the high density donor area and then transplanting them to the recipient's bald spot. The harvesting of grafts is a highly important stage since the proper procedure chosen may ensure the permanence of results and, if not, can result in subpar results. For instance, improper transplanting of the collected hair grafts might provide unnatural-looking outcomes. Choosing the best hair transplant surgeon is so difficult but essential for your assured satisfaction.
Hair transplant in Jaipur is regarded as the industry's headquarters in India, since there have grown in popularity of the procedure. There are only a few hair transplant doctors in Jaipur who have earned recognition as among the best in the world.
One of the best hair transplant surgeons in Jaipur, Dr. Suneet Soni is renowned for his exceptional surgical abilities and astounding sense of aesthetics. His commitment to the hair transplant area has earned him several honors and prizes at both worldwide and domestic conferences. He is now a member of reputable worldwide associations involved in hair transplantation because to his keen interest in the research community.
WHAT IS HAIR TRANSPLANT?
One of the most well-liked cosmetic procedures among individuals all around the world is hair transplantation. Every hair loss patient seeks a permanent cure, thus the permanent results and the natural-looking outcomes are what entice people to select the process.
An outpatient surgical treatment known as a hair transplant includes choosing a donor location with permanent hair roots, extracting those roots by hand using either the FUT or FUE technique, and then transplanting those roots into the bald area.
What characteristics should a surgeon have in order to do the greatest hair transplants?
Finding the finest hair transplant surgeon is essential if you intend to get a hair transplant in order to ensure a flawless, risk-free, and secure procedure. In order to ensure successful outcomes from hair transplant surgeries, the hair transplant surgeon should be chosen based on a set of qualifications and attributes.
A few of the most important factors to take into account when selecting a hair transplant surgeon are listed below and described as follows:
The hair transplant surgeon's educational background: It goes without saying that a surgeon's level of training is important while undergoing a surgical treatment. It is undeniable that the surgeon's training, experience, and understanding ensure both the success and safety of the surgery. Ideal candidates for hair transplant surgery should be highly skilled in cosmetic surgery and have either international or national accreditation.
The hair transplant surgeon's experience: It is considered to be the most important component when it comes to surgery since an experienced surgeon can deal with difficulties and specific situations with ease. It is important to carefully examine the hair transplant surgeon's experience in terms of the number of cases handled throughout those years of work as well as the number of years the surgeon has been in practice.
The hair transplant surgeon's expertise: The hair transplant surgeon's expertise is crucial because it gives him a distinct identity and sets him apart from other doctors in the field. You may evaluate a hair transplant surgeon's level of experience by reading and seeing patient evaluations, testimonials, documents, and films that the clinic has made available of prior patients.
The hair transplant surgeon's artistic vision: If the hair transplant surgeon's artistic vision is unmatched, they may be perfectionists. A cosmetic surgeon is the ideal candidate to do the hair transplant because of this trait. The hairline looks incredibly natural because to the hair transplant surgeon's creative vision.
The hair transplant surgeon's holistic approach: The hair transplant surgeon should be qualified to take a holistic approach to make decisions on specific parts of the planning of hair transplant surgery. You are in good hands if you discover a hair transplant surgeon that doesn't use a formulaic approach with every patient and makes decisions practically and holistically after thoroughly evaluating your situation.
The hair transplant surgeon uses cutting-edge techniques: Innovation in every sector is necessary to improve the operation and address its flaws in the pursuit of perfection. A hair transplant surgeon who is knowledgeable about cutting-edge techniques and supports their regular use to get the finest outcomes should thus be given preference.
Cost-effective hair transplant surgeon: It's okay to stick to your spending plan, but never depend on cheaper hair transplant centres that might trick you with offers of discounts. Instead of choosing a surgeon solely on the discounts they give, you should consider their work and competence.