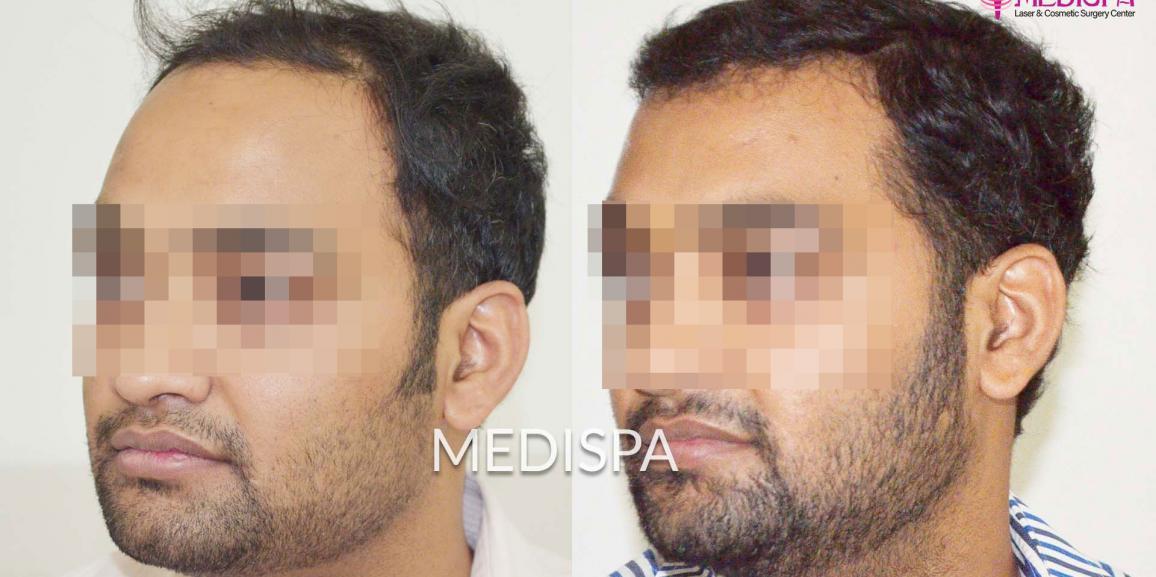 As they are at eye level, hairs are the first thing that people see, creating the first impression. Everyone desires youth, which a healthy scalp conveys. But those who lose them in the middle of their lives are unfortunate. Losing your hair makes you look years older than you actually are, which is upsetting.
A major global problem, hair loss is rapidly becoming more common. Men and women are both affected by this issue. Individuals frequently ignore hair loss in its early stages and get alarmed when it becomes apparent and people start making remarks about it.
In earlier decades, people had to put up with those remarks and embarrassments because the procedure wasn't generally accessible and was only affordable by celebrities due to its high cost. Modern technology has made significant improvements to the process that can produce long-lasting and organic effects. Owing to improvements in the procedure, hair transplantation has grown in popularity, which has led to a blossoming of clinics around the nation. The cost of the process has significantly decreased, particularly in India, as a result of the clinics' increased availability and saturation, making it affordable for regular people as well.
Hair transplant
Hair follicles are harvested from the donor area, particularly the back and side of the head, or possibly other places of the body depending on the hair density, in a minimally invasive cosmetic surgical technique known as a hair transplant. The recipient's bald area is subsequently filled with these transplanted hair follicles.
It requires highly skilled surgeons to conduct since it is a highly precise and technique-sensitive treatment. The processes and process for a hair transplant surgery include:
According on the treatment and technique chosen, the hairs are trimmed. Only the strip harvesting area needs to be lightly shaved when using the FUT hair transplant process. The FUE method necessitates thorough shaving.
After trimming, local anaesthesia is administered to the donor and recipient areas.
Grafts are harvested based on the chosen technique. The FUT hair transplant process involves harvesting a brief strip, then dissecting it to extract the individual grafts. After strip harvesting, the donor region is healed using a cutting-edge method called trichophytic closure, which leaves an essentially undetectable scar.
Slitting, a procedure, is used to prepare the recipient site. Slitting is a crucial process that needs to be carried out carefully with careful preparation to ensure beautiful results.
After being recovered, the hair grafts are then placed in the ready-made slits at the recipient location.
During the hair transplant process, tiny circular clots form around the freshly transplanted hairs; these clots are then wiped off by the clinic's skilled staff on the second day.
After the treatment, the patient is given a list of instructions that must be properly followed, as outlined by your hair transplant surgeon.
Hair transplant techniques:
Two contemporary methods for doing hair transplant aesthetic surgery are categorised based on how differently they harvest follicular grafts. These methods consist of:
FUT hair transplant (Follicular unit transplantation or strip technique): The FUT hair transplant process involves taking a small strip from the donor area, which is typically the back and side of the head, and transferring it to a chamber where individual "follicular units," made up of hair grafts that are appropriately surrounded by tissues, are further separated. These individual follicular units are harvested, and the retrieved grafts are subsequently implanted in the desired recipient's bald area. Because these tiny grafts are difficult to see with the naked eye and require sufficient magnification to be visible in order to avoid damaging the root, each step of a FUT hair transplant is performed under high loop magnification to assure precision.
FUE hair transplant (Follicular unit extraction): Using a surgical tool that resembles a punch, this method extracts individual follicular units from the donor location on the scalp. The transplanted follicular units are then placed in the prepared slits at the recipient site.
Hair transplant benefits
In comparison to other existing alternative therapy options for hair loss, the hair transplant procedure has several benefits. As a result, it is the one that hair loss sufferers prefer the most. Here is an explanation of the benefits:
Compared to other treatment techniques, cosmetic surgery for hair transplantation provides lasting results despite being time-consuming and ineffective.
The cosmetic hair transplant procedure successfully produces invisible, natural results. Only a hair transplant surgeon with artistic vision will be able to accomplish the natural hairline design because it is quite subjective.
Hair transplant aesthetic surgery provides long-term benefits for additional sessions, should they be needed, in cases of advanced baldness and gradual hair loss.
"Medispa clinics" for hair transplant in Jaipur and Delhi are well-known and provide top-notch results. The hair transplant cost in Jaipur is reasonable, and we offer you a package that is cost-effective for the level of service we offer. Visit us to meet Dr. Suneet Soni, one of the most well-known names in hair transplant in India, if you want to have a flawless hair transplant.