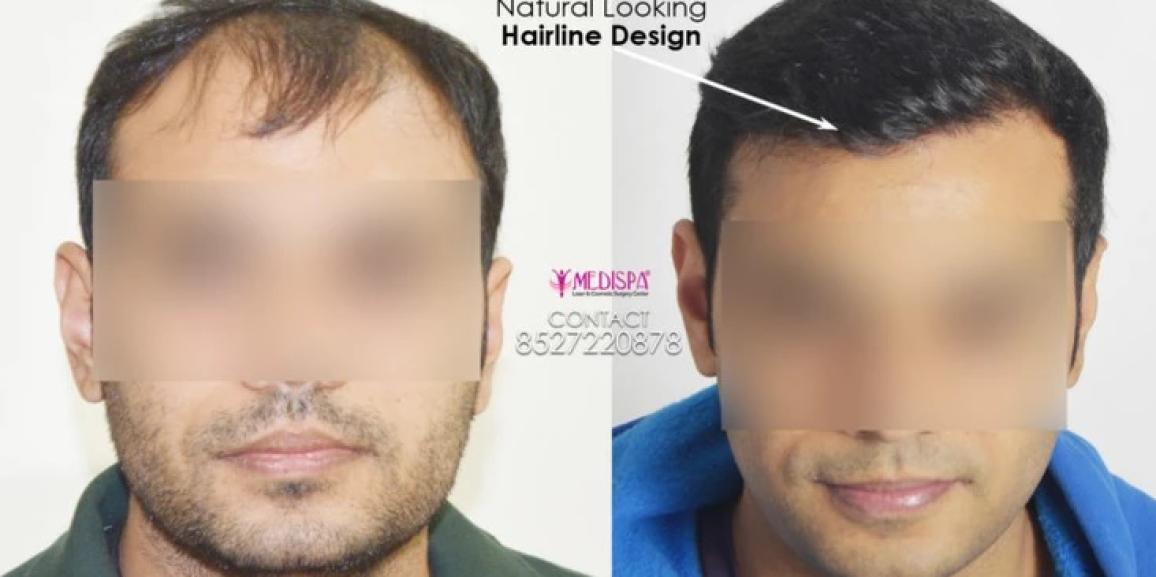 Everyone has shortcomings, and many people want to fix them. Flaws relating to beauty or appearance can have social, psychological, and mental effects on everyone. Baldness or hair loss is one of these flaws that can have a catastrophic impact on anyone. This issue can be greatly corrected thanks to Hair Restoration surgery. Similar to other cosmetic procedures, hair restoration surgeries aim to provide results that are aesthetically pleasing and appear natural. Surgery for hair restoration is performed to either fill in the bald spot or to improve an unattractive hairline.
Before, hair transplant surgeries frequently left blocked hairs behind, making the results less attractive. Yet thanks to technological improvements, this process has been made easier in a number of ways, making it feasible to get the best outcomes. In order to address the problems of baldness and an improper hair line, hair transplantation is becoming increasingly popular and well-liked in India. Because to the growing significance of appearance in today's most professional domains, hair transplants in India have also become very popular. In order to regain their confidence and social acceptance, people are choosing to undergo these operations.
A hair transplant is a minimally invasive surgical treatment that includes removing hair grafts or roots from a donor location that has high hair density and is resistant to DHT (dihydrotestosterone). The extracted hair transplants are then eventually put at the bald area. It is possible to harvest individual hair follicles or strips of hair, depending on the procedure utilised.
One needs to be proactive from the beginning of therapy, from the initial stage of selecting the correct surgeon through post-surgical follow-ups, in order to achieve perfect results following hair restoration surgery.
How effective is hair transplant in restoring growth?
The following are some factors that demonstrate the effectiveness of hair transplantation:
Improving your appearance:  As more and more people, both men and women, are concerned with their appearance, the cosmetics market is expanding quickly. It's only natural for everyone to desire to look their best, yet when a healthy scalp is damaged, beauty suffers. In current society, having a healthy scalp is a sign of youth and vigour, making hair one of the most significant cosmetic items. When you are weary of covering up your bald scalp with wigs, hats, and hairstyles, you should consider a hair transplant cosmetic operation. This will enhance your confidence by improving your appearance.The best cosmetic outcomes from hair transplant surgeries are now available thanks to recent advancements in the area. This generation is fortunate to have a permanent solution to their hair loss issue.
Low upkeep: These procedures are low maintenance since they provide permanent treatment. The aftercare of a hair transplant is also not difficult or stressful and can be easily managed with a regular lifestyle. Following having a hair transplant, one can start working again the next day. Permanent hair transplant outcomes will undoubtedly increase your confidence. Even though there is minimal aftercare required, it is still imperative to strictly adhere to all the recommendations provided by the hair transplant surgeon.
Cost-effective alternative: When compared to other developed countries, hair transplant in India is fairly affordable and a cost-effective alternative. As a result, it has gained a lot of popularity because everyone who suffers from hair loss wants to regain their confidence by growing hair on their bald heads. Because to the affordable treatment costs and uncompromised treatment standards, people from all over the world travel to India for hair transplant tourism.
Life transforming procedure: Hair transplant surgery can drastically alter your life in ways you never could have imagined. Although though having a hair transplant is a major decision because it requires surgery, many people still think the process is worthwhile. Imagine how happy you would feel following a hair transplant when you saw flowing flocks of hair on your scalp. You'll be able to arrange your hair whatever you like and won't have to cover your head with stray hairs anymore. You won't need to constantly wear caps or wigs to hide unsightly bald areas.
Permanent treatment: Hair transplant cosmetic surgery, also known as safe donor area surgery, is the only permanent treatment for hair loss that uses hair follicles from an androgen-resistant area. These hair follicles are not affected by hereditary factors and remain stable throughout a person's lifespan. Your suffering from baldness might last the rest of your life. After experiencing embarrassment, getting a hair transplant could be a significant decision. Imagine regaining your hair permanently after having lost them once. That would be a once-in-a-lifetime opportunity. One's confidence will undoubtedly grow as a result.
Since a few years ago, hair transplant in Jaipur has been increasingly popular, thanks in large part to the presence of numerous top doctors in the city. Dr. Suneet Soni, proprietor of the Medispa Hair transplant clinic in Jaipur, is one such gem. He is a well-known expert on the issue of hair transplantation, and his patient reviews are out of this world. Dr. Suneet Soni has completed more than 10000 procedures and has worked on a variety of cases, from the most straightforward to the most complex, including rectifying incorrect hair transplants carried out by other surgeons.
The price of the hair transplant is the cherry on top. It is now widely recognised that the hair transplant cost in Jaipur is very affordable when compared directly to those in the US, the UK, or even the UAE. It costs roughly a quarter to a fifth of what it does in these developed countries.