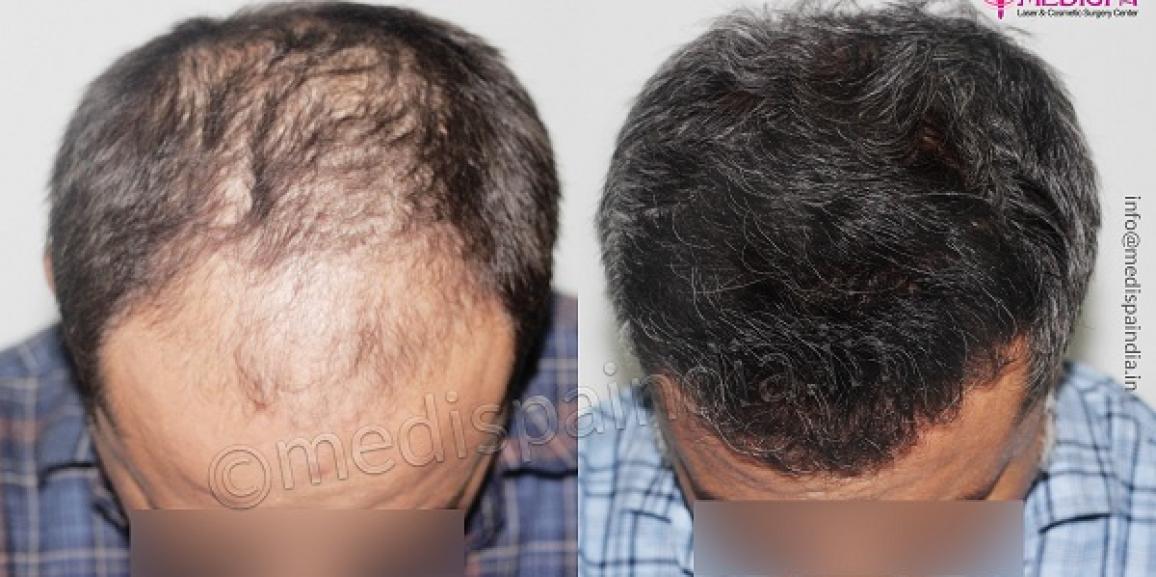 Surgical treatments, whether small or big, require a lot of post-operative care. Every surgical treatment has specific postoperative recommendations that must be properly followed to prevent problems and promote uncomplicated healing.
Similar to other procedures, hair transplants have numerous instructions that must be strictly followed in order to produce permanent results and prevent complications. The good news is that hair transplant surgery is a minimally invasive surgical treatment that has very few postoperative issues and does not result in morbidity.
The Medispa hair transplant clinic is renowned for providing the best results while also providing comfort and aftercare in order to ensure the best outcome. One of the top service providers for hair transplant in Jaipur, we promise exceptional outcomes and have a 100% success record. We have the largest hair transplant team in India, and they will be by your side during the whole hair transplant process as well as for the duration of your post-transplant care. Your happiness is our first concern, and we work tirelessly to turn your goal of natural results into a reality at a reasonable hair transplant cost in Jaipur and Delhi.
Dr. Suneet Soni, who is renowned across the world for executing the best hair transplants with outstanding creative vision to create hairlines, deserves all of the credit for our widely recognised name.
What are the side effects of hair transplant surgery?
Every procedure has certain long-term repercussions. The same is true with hair transplants. After the operation, you can have a few moderate side effects.
Slight swelling: Swelling may occur after a hair transplant. The swelling may reach the eyelids or the forehead. This goes away on its own a week following the hair transplant.
Minimal pain: Some discomfort following a hair transplant is typical. After the treatment, this pain lingers for three to five days.
Numbness: It's typical to have numbness in the afflicted area. After receiving a hair transplant, the numbness may go away in a few days to many months.
Itching: Following a hair transplant, the treated region may itch. Within a week of the procedure, the itching stops.
Scars: Without scars, no surgery is feasible. However, it is possible to have a hair transplant with hardly any scarring.
How to avoid the side effects after hair transplant?
There are techniques to prevent or alleviate the negative effects that follow a hair transplant.
How may swelling be reduced following a hair transplant?
Following a hair transplant, the doctor may advise you to wear a headband for the first two days. While sleeping, you must keep your head elevated. After getting a hair transplant, you shouldn't smoke or drink. For the first couple of days following the procedure, you must get enough rest.
How may discomfort be lessened following a hair transplant?
A hair transplant may cause pain. You can use painkillers to lessen the pain. However, only take medications after speaking with the hair transplant doctor.
Does numbness subside with a hair transplant?
Following a hair transplant, numbness gradually goes away. Getting back to normal might take days to months.
How may itching be treated following a hair transplant?
Cleaning the afflicted region properly on a daily basis will help to lessen itching following a hair transplant. Applying the shampoo should be done in accordance with the doctor's recommendations. After using the shampoo, apply the lotions.
Can an infection be prevented following a hair transplant?
Infections following a hair transplant are uncommon. In order to prevent any type of infection, the hair transplant procedure should be carried out in a clean atmosphere. Additionally, you must practise good aftercare to prevent infections.
How may scars from hair transplants be avoided?
Hair transplants are possible with nearly undetectable scarring. To achieve the greatest appearances, you must choose the best physician to do the hair transplant. The finest outcomes are achievable with the cutting-edge techniques.
Basic precautions:
Exercise and regular work:
It can be resumed the day after the operation.
Give up sports or intense activities for a week.
For at least a month, heavy lifting and intense core activities are strictly forbidden.
A month is spent without swimming.
You should refrain from using steam rooms, saunas, hot tubs, and engaging in any activity that might cause you to perspire for at least a month.
What to eat?
Ice cream and spicy foods are avoided for at least a week.
Choose foods high in minerals including zinc, iron, vitamin C, vitamin A, and vitamin D.
Hair care and washing:
The head is wrapped the day of operation when washing your head is not necessary.
On the second day following hair transplantation, a professional head wash is administered within the clinic.
For the first 4-5 days following surgery, try to avoid letting the water beat directly into the recipient region where the grafts reside.
To assist rinse the graft areas, you might need a cup in the shower.
For the first two to three days, you can lightly touch the grafts when bathing.
Refrain from grabbing the grafts with your nails.
Hair styling equipment like chemicals and hot tools should be avoided until the scalp has fully grown.
For at least 10 days following the hair transplant process, hair combing is prohibited.
CRUSTING:
In general, crusts disappear after 7 to 10 days, however this might sometimes take longer.
Your hair transplant surgeon recommends lotion and lotions for successfully eliminating these flakes and crusts.
From the tenth day following the hair transplant process, gentle rubbing is indicated to aid in the clearance of crusts, which enhances the hair development of planted follicles.