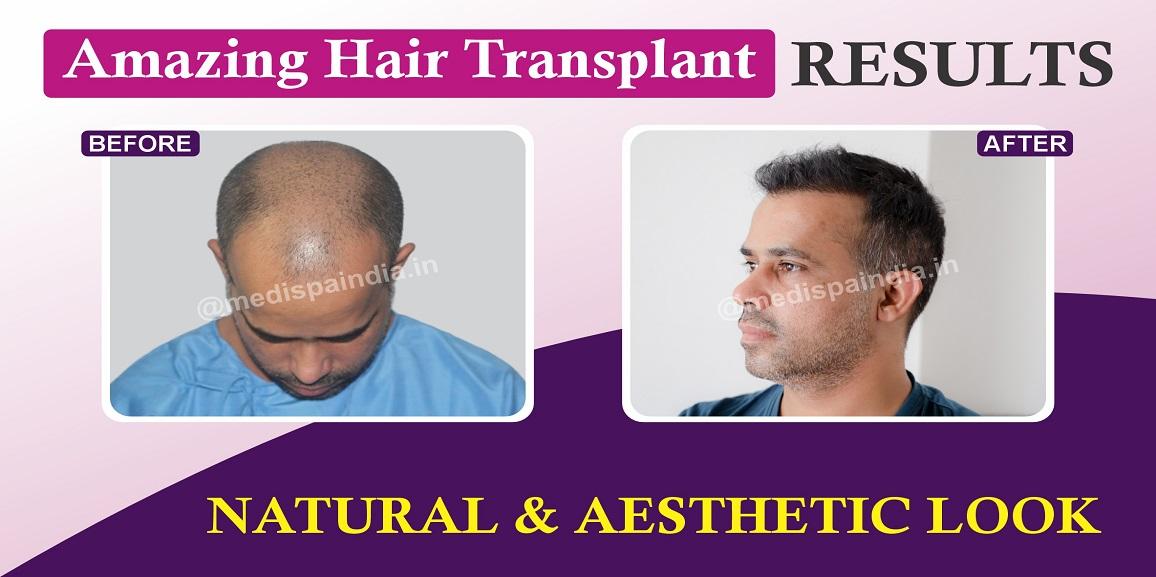 Everyone finds hair loss to be very stressful, and the worst part is when you have no control over it. One essential component of looking lovely, handsome, or young is hair. Losing your hair could be a terrifying nightmare because of how embarrassing going bald is. But regrettably, some people may be forced to deal with the consequences of going bald because of an unforeseen circumstance.
The most common cause of baldness is genetic, so if your parents or grandparents have dealt with the condition, there may be a reasonable chance that you will as well. Fortunately, unlike them, you won't have to live with the discomfort of going bald because there are treatment options that can stop the hair loss and offer comfortable coverage with results that look completely natural.
What options are there for treating hair loss?
There are numerous treatments available for baldness or hair loss, including:
Extensions, prosthetic hair, or wigs: These are effective short-term solutions to baldness concealment, but they require constant upkeep and replacement, which might be tiresome. Additionally, these aids might be embarrassing if one realizes they are not a viable life solution. It can apparently only be used temporarily and is not a hair regrowth option.
What treatments are available for hair loss?
Medication: The drugs on the market, such as minoxidil and finasteride, are used to reduce hair loss and promote the growth of existing hairs. However, it is clear that this is not a hair regrowth option. These medications, among others, are said to be helpful but uncertain in terms of long-term effects. Once the medication is stopped, it is discovered that the results have relapsed.
The last, and best, option is a hair transplant, which can produce results that are completely natural-looking and offer the most hair density. This procedure provides long-lasting, permanent results.
Hair restoration and its procedure
Hair restoration is a minimally invasive surgical procedure that successfully covers the maximum amount of baldness while also improving the appearance by changing the hairline if you're unhappy with the way it looks now. The hair transplant procedure involves removing hair follicles from a body part that has permanent hair roots and transplanting those hair roots to the bald area. The back and sides of the head are the most frequent locations for permanent hair roots, though other locations include body hairs.
Several steps of the hair transplant procedure are carried out in a single session, including:
Local anesthesia is applied to the bald areas of the donor and recipient.
Harvesting hair grafts from areas where the roots are permanent and last a lifetime.
Making the slits at the recipient's bald spot.
Hair follicles are transplanted at the recipient site.
Dispensing post-procedure instruction
Follow up session
Hair transplant in Jaipur has gained popularity as a treatment option and are regarded as the best way to treat hair loss. The highly regarded hair transplant surgeons who practice in the city and are known throughout the world for providing the best hair transplant results are largely to blame for Jaipur's rise to popularity as a travel destination. Because there is so much competition and the procedure is widely available in the city, the hair transplant cost in Jaipur has also decreased significantly.
One of the best hair transplant surgeons in India, Dr. Suneet Soni is renowned for providing predictable and desired results with a high success rate. He has gained a lot of recognition and admiration for his astounding artistic ability to create a hairline in a completely natural way. He is without a doubt one of India's most sought-after hair transplant surgeons thanks to his abilities and in-depth knowledge.
Is hair transplantation a restorative or regenerative option?
The majority of patients want to know if this procedure will restore their lost hair. Many people have the misconception that a hair transplant involves growing back the hairs they have already lost during the course of hair loss.
Actually, a hair transplant is a restorative procedure that involves moving hair follicles with permanent roots from other parts of your body to the bald area. There is no way that this procedure can regrow lost hair for you. There is currently no method available that can regenerate the hair follicles on the bald area. But hopefully the magic of stem cells will work when medical science is able to regrow hairs in the future.
Is hair transplantation the best treatment for thinning hair?
If a hair transplant is an option for you, it is without a doubt the best treatment for hair loss. Because the hair transplant procedure uses your own hair, it can only be carried out if the donor area has a sufficient number of hair follicles. The advantages of hair transplantation over other hair loss treatment modalities are numerous and include:
Hair transplantation offers permanent results, making it a one-time investment that will give you hair on your bald head for the rest of your life.
Hair transplantation offers natural results, but only when it is carried out by skilled hands.
Hair transplantation is a hassle-free procedure because it requires little upkeep after the physical recovery period, which lasts for about 7 to 10 days.
Hair transplantation is a painless procedure, which is one of the biggest benefits for people who are on the fence about getting it done for this reason alone.