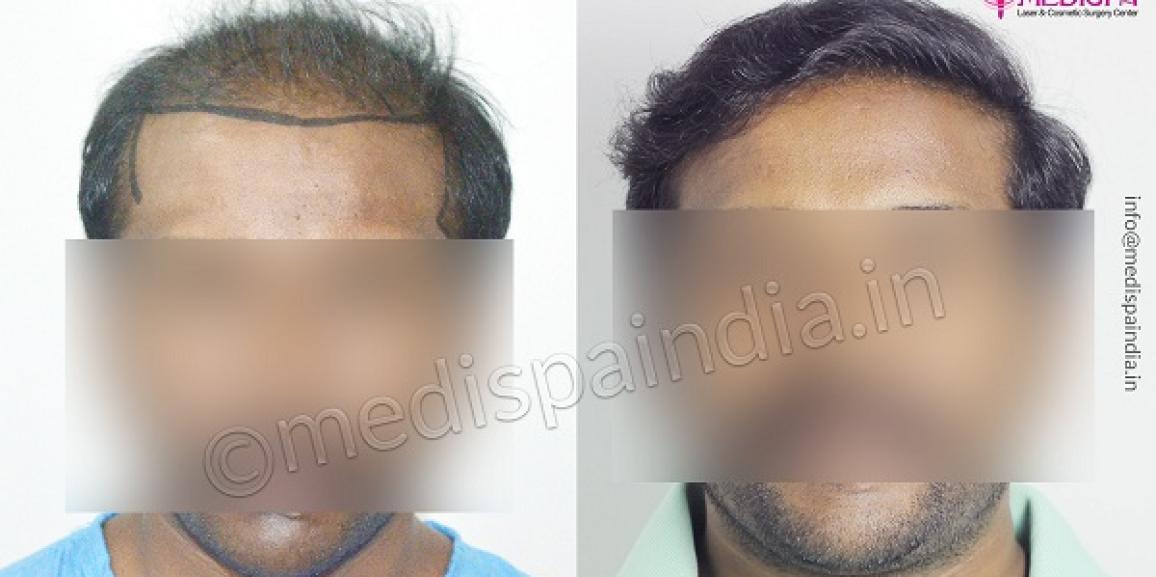 Hair loss has mentally challenged the sufferers causing them depression and anxiety issue. It definitely has no physical morbidity associated but mental chaos is distressing in itself. Earlier people use to bear the consequences of the hair loss as there was not much aesthetic awareness but these days looks and personality are not only required for a healthy social and personal life but also carries a huge weightage in professional life.
Professional success also demands youthful look which can be ruined by growing baldness and your career could possibly sink. But with the advancements the managements strategies have also widened their horizons and with the advent of hair transplant procedures the concept of growing hair on the bald area became possible.
Hair transplant procedure is a minimally invasive surgical procedure which is performed by extracting the selective hair grafts from the donor area possessing the permanent roots and then transplants them to the desired bald area. The bald area is looked for the extent of the baldness and the donor area for the hair density which should be suitable to cover the bald area.
Hair transplant in Jaipur has become very popular as the city is gifted with the best hair transplant surgeons of the country. Dr Suneet Soni is one of the most renowned and celebrated hair transplant surgeon whose popularity is well known globally and is producing consistent incredible results of hair transplant since 2005. He has been enlisted among the world's best hair transplant surgeons and has been approached by the patients from all around the globe in huge numbers.
Hair transplant: Is it worth it?
If you ask about the worth of the hair transplant procedure, the science would say it is really worth your time and money. But forgetting a worthy hair transplant you need to be judicious while selecting your hair transplant surgeon which decides the success or failure of the procedure.
So if the hair transplant is performed with perfection then you can surely receive the world class results with following benefits which makes it really worth choosing:
Permanent outcomes which stay for life time
Natural looking hairline which will give you an appealing look
Hassle free hair transplant with no maintenance and replacements
Pain free hair transplant
Scar free hair transplant
Good and fast physical recovery
Fast hair growth
No added complications
Hair transplant cost in Jaipur is very affordable which makes the city luring for the hair loss sufferers to visit for hair transplant tourism.
So if you are facing hair loss and looking for a clinic with high success rate then visit Medispa hair transplant clinic in Delhi and Jaipur.
Are the techniques to perform hair transplant competent?
Hair transplant is performed by using 2 basic primary techniques including: FUT and FUE hair transplant techniques. The advanced versions of these techniques are very successful and are capable of providing the excellent outcomes. Let's see how successful these procedures are for performing hair transplant which are explained as follows:
Success of hair transplant by FUT technique: At Medispa hair transplant clinic we perform advanced FUT hair transplant and perform every tiny step under high magnification in order to deliver the incredible results with almost negligible damage rate to hair grafts. Dr Suneet Soni ensure highest success rate by performing each step on his own and supervising each move.
Success of hair transplant by FUE technique: The hair grafts extracted using FUE hair transplant are more fragile and required immediate transplantation with minimum out of body time. Medispa hair transplant clinic uses the advanced version of FUE which is termed as "rapid harvest and early implantation". This newer approach refers to preparation of the recipient site prior to the extracting the hair grafts.  We make sure to provide the excellent outcomes with minimum damage to hair grafts with highest success rate.
Success rate of hair transplant in India
Hair transplant clinics in India vary largely in their quality of treatment and facilities. Including, there is lack of authority check for whether the clinic is practising ethically or not. Many specialities are performing hair transplant these days which entails compromised outcomes.
So if we talk about success rate then authorized, highly qualified and experienced surgeon tend to show higher success rate definitely.
The success rate of the hair transplant is definitely judged by the hair transplant surgeon you choose to perform the procedure. Cheaper hair transplant clinics cannot be trusted for the successful hair transplant as lack of knowledge of the surgeon and inexperience could damage the hair grafts at a higher rate and compromise the results. The success rate at Medispa hair transplant clinic vary from 95-100% which is very high and available at fewer hair transplant clinics worldwide.
Dr Suneet Soni is pioneer and leads the hair transplant industry by providing the successful outcomes with assured desired results. He is well known to provide the maximum density hair transplant with least damage rate of less than 1%.
So for the incredible and impeccable hair transplant, visit Medispa hair transplant clinic in Jaipur and Delhi.