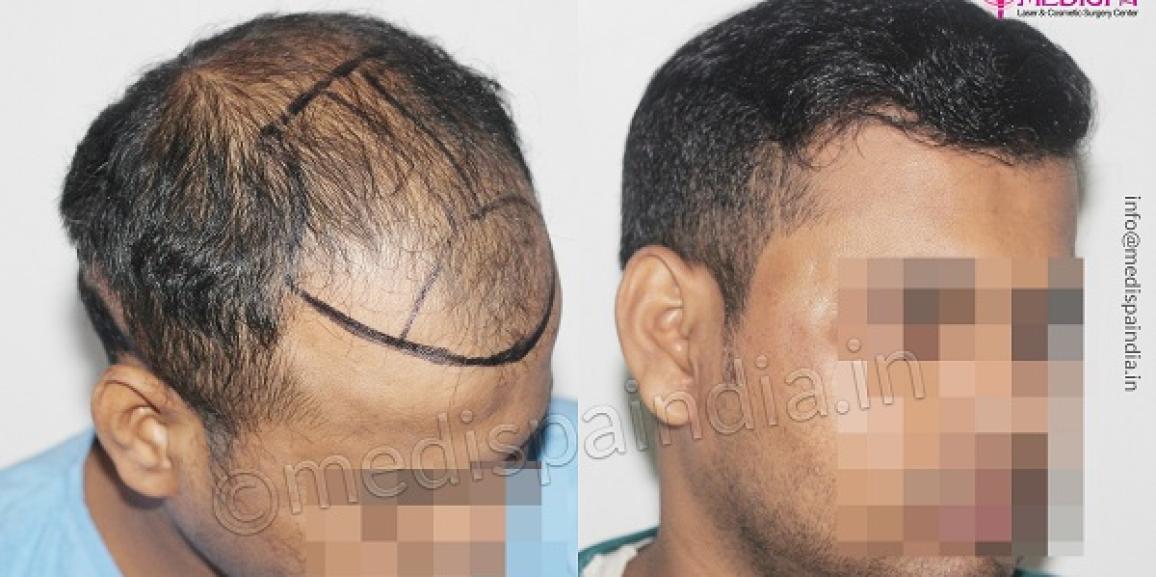 One of the most important characteristics that affects your whole look and personality is your hair. Hair loss may be a nightmare since you know it will make you seem less appealing. It's not pleasant to lose your hair, especially when it's uncontrollable. Hair transplants are now available to people of all ages, not only those in their 40s as they once were, but even those in their 20s and 30s.
According to research, hair transplantation is the most effective long-term hair loss treatment option for promoting healthy natural hair growth. Among all available treatments, hair transplant has shown to be the most effective alternative.
In recent decades, many people seeking hair transplants have travelled to India, which has become a popular hair transplant tourist destination. India is currently the most sought-after location for hair transplant tourism. Jaipur and Delhi have become the leading destinations for hair transplant tourists in India. The Medispa hair transplant clinic in Delhi and Jaipur have been at the forefront of hair transplantation for more than ten years. We are committed to giving you state-of-the-art technologies at a reasonable cost to ensure a successful hair transplant.
Dr. Suneet Soni is a well-known surgeon for hair transplant in India whose reputation is purely based on his work and subject-matter expertise. He is today one of the most skilled, knowledgeable, and competent surgeons in our nation. He has successfully performed more than 10000 hair transplants during his career and is an expert in all hair transplant techniques. He has received several awards and recognition for his noteworthy achievements in this field at national and international conferences.
Dr. Suneet Soni is the best hair transplant surgeon in India, so look no further. Schedule a consultation at Medispa Hair Transplant Clinic right away.
Types of Hair Transplant We Provide At Medispa Jaipur
FUE and FUT hair transplants are the two main methods used to accomplish hair transplants. Following is a description of these techniques:
FUT hair transplant: A portion of skin is removed from the sides and back of the head during FUT hair transplantation. Each hair root from the strip is removed by cutting the strip. Each hair root is removed with the use of microscopes. Sutures are used to seal the donor area. The bald spot is then where the hair roots are planted.
FUE hair transplant: Using this technique, each hair root is individually removed from the donor area of the scalp. With the use of a punch instrument, the hair roots are pulled out. The bald spot is where the hair roots are planted.
To carry out any of these procedures, it is crucial to select an expert doctor. Precision hands are required for FUT. If not done correctly, it could leave scars.
FUE and FUT techniques were combined in the hopes of achieving more hair growth following a hair transplant. This technique uses FUT to remove the majority of the hair roots. The FUE procedure is used to remove the residual hair roots.  In a single session, this technique may harvest more than 4000 hair roots.
How to find the best hair transplant surgeon in India?
Following are some things to consider when selecting a hair transplant surgeon:
Qualifications and educational background: An savvy surgeon with the appropriate academic prowess and topic understanding is likely to have a solid educational history.
Experience is necessary for a safe operation and successful outcomes. An experienced surgeon is a godsend because they can use what they've learned in the past to improve the safety, effectiveness, and efficiency of your procedure.
Skill: Because hair transplantation is an aesthetic operation, surgical skill and accuracy are in great demand.
Board certification: Benchmarking to pertinent regulatory criteria is shown by board certification and accreditation.
Patient-centered approach: An excellent surgeon creates individualised treatment plans based on each patient and is aware of how to change them to achieve the best results.
Prioritise quality above cost: A skilled surgeon would never put quality of results ahead of money since doing so might result in disastrous consequences. Choose a surgeon who provides high-quality care at a reasonable price, then.
Honours and distinctions: Symbolic of standing and work for ongoing improvement
Technology dependence: Any competent surgeon would recognise and grasp how technology may enhance the procedure's overall quality, safety, and ability to address constraints. As a result, he or she would attempt to include more and more technology into their process
Encouraging: A competent and self-assured surgeon will always advise you to check prior outcomes and speak with former patients.
Clinic owner vs. employee: Physicians who own their practises are believed to be more committed and active than those who are merely employed.
Process- and protocol-driven therapy: Skilled surgeons are aware that in order to prevent traps or difficulties, a treatment must be process- and protocol-driven. As a result, they are frequently joined by a knowledgeable and experienced staff.
Best Hair Transplant Surgeons in India
In addition to having an MBBS and an M.S. in general surgery, Dr. Suneet Soni also has an M.Ch. in cosmetic surgery. He is well-known and highly regarded for his exceptional surgical abilities and amazing creative vision. He is one of the most well-known and respected hair transplant doctors in India. His reputation for carrying out flawless hair transplants draws patients from all around the world. His skilled hands and wide surgical talents have been attested to by countless numbers of his patients. He is one of the best hair transplant surgeons in India, and he does high density hair transplants that appear perfectly natural using the most advanced techniques. His aesthetic sensibility and skill in hairline designing have attracted a lot of high profile people and celebrities to help them achieve a desirable look.