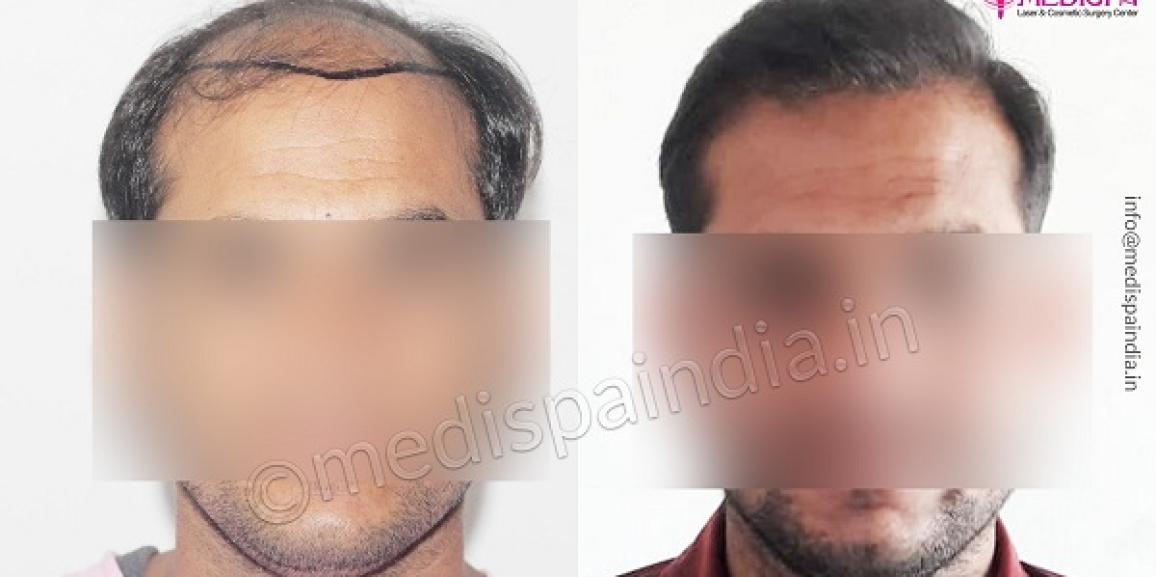 A hair transplant is an outpatient cosmetic procedure intended to cure cases of baldness on the scalp or in face regions such as the eyebrows, beard, or moustache. The underlying process of the operation involves transplanting permanent hair roots to the bald area of the recipient after removing them from designated donor locations of the body. The amount of hair grafts needed, the technique used, the density of the hair follicles, and minimizing damage to the harvested hair follicles all play a role in the surgeon's knowledge and competence when selecting the donor location.
In the last 20 years, hair transplant in India has increased for three key reasons.
Exceptionally skilled doctors in Jaipur and New Delhi
Clinics with cutting-edge technology that follow top-notch protocols, practices, and hygienic requirements.
The hair transplant cost in India is quite affordable considering the high caliber of care that is offered there. Depending on the circumstance, the price might range from INR 60,000 to INR 400,000. For comparable quality procedures in the US, UK, or even UAE, this is around one-fourth or one-fifth of the cost.
One of the greatest and most well-known clinics in India, Medispa Hair Transplant Clinic is founded and operated by Dr. Suneet Soni and his team. Their objective is to offer hair transplants of the greatest quality at a fair price. The mission is evident in the 17 years of results and outcomes as well as in the hearts of the 10,000 patients who have received treatment from Dr. Suneet Soni. He is a highly skilled and renowned hair transplant surgeon who, in addition to his exceptional surgical abilities, is well-known worldwide for his creative abilities. These abilities are very advantageous as they allow him to create top-notch hairline designs.
Pre-procedural activities to achieve successful outcomes:
Pick the top surgeon for hair transplantation:
If you want flawless and natural results, choosing the finest hair transplant specialist is essential. When looking for the finest hair transplant surgeon, it's important to consider the surgeon's training, background, and level of experience. By visiting the official websites and other applications that help find the doctors, one can simply find out about their qualifications and expertise. Examining the surgeon's prior patient photo gallery is one way to assess their level of expertise.
Renowned hair transplant surgeon Dr. Suneet Soni of Medispa Hair Transplant Clinic is well-known around the globe. Because of his extraordinary surgical and creative abilities, he is one of India's most sought-after hair transplant surgeons. He has received invitations both domestically and abroad to lecture physicians and surgeons on many facets of hair transplantation. He is the one who received recognition for bringing the FUT + FUE combo method to Delhi and Jaipur.
2. Look for pertinent websites to evaluate the clinic's legitimacy: To provide the best possible result, it is imperative to ascertain whether the clinic is correctly adhering to the surgical process guidelines. A certain web portal displays authentic evaluations and testimonies that warrant further exploration. Try to get in touch with a couple of the patients who have had hair transplants and are willing to talk about their experiences. This may offer you a decent notion of the clinic's legitimacy.
The preferred method: Make an appointment with a reputable hair transplant surgeon so they can examine your scalp, the density of the donor area, your age, and the amount of your baldness to determine the best procedure for you. Hair transplants are performed using two main techniques:
FUT hair transplant technique (strip technique)
FUE hair transplant technique (follicular unit extraction)
Every approach contains indicators that may be customized to meet your needs. The FUT hair transplant procedure is often recommended when a higher graft count—roughly 3000–3500 grafts—is needed. When less than 2500 grafts are needed, the FUE hair transplant procedure is recommended.
When more than 4000 grafts are needed, a combination of FUT and FUE is done to better preserve the safe region and provide long-term benefits that may require repeated sittings in the future.
After choosing your hair transplant surgeon, it's important to understand the pre-procedural guidelines and measures you should take to ensure the best outcomes and procedure comfort.
Preliminary procedural thoughts:
Verify health-related parameters: For your benefit, the clinics should perform a thorough evaluation of your systemic health. One day before to the surgery, specific blood tests are recommended; these should be thoroughly looked into. You have an obligation to disclose to your surgeon any health issues you are experiencing or any relevant medical history. Any drugs, such as blood thinners (aspirin), that must be stopped before to surgery with a doctor's approval should be disclosed. One day before the hair transplant operation, an ECG is obtained to evaluate the patient's vital signs.
Scalp assessment: The hair transplant surgeon thoroughly examines the scalp under high magnification to determine the degree of baldness, the suppleness of the scalp skin, the density of hair in the donor area, and any longstanding infections. The amount of hairs to be removed and the procedure might be decided upon based on these facts. Hair growth post hair transplant
It is therefore widely known that there is a cycle to the development and fall of natural hair. Consequently, it goes without saying that a cycle will likewise be followed when natural hair is transplanted at the bald spot. The freshly transplanted hair often starts to shed a few days following the treatment. Although this is normal and actually wonderful news, some patients may get anxious. Therefore, the surgeon's standard advice is to maintain composure and keep watching. Thus, there will be a resting interval following hair loss, and then fresh hair growth will begin. One can see fresh hair growth practically a trimester after the procedure, and the coverage normally starts to show after a semester or a little longer.