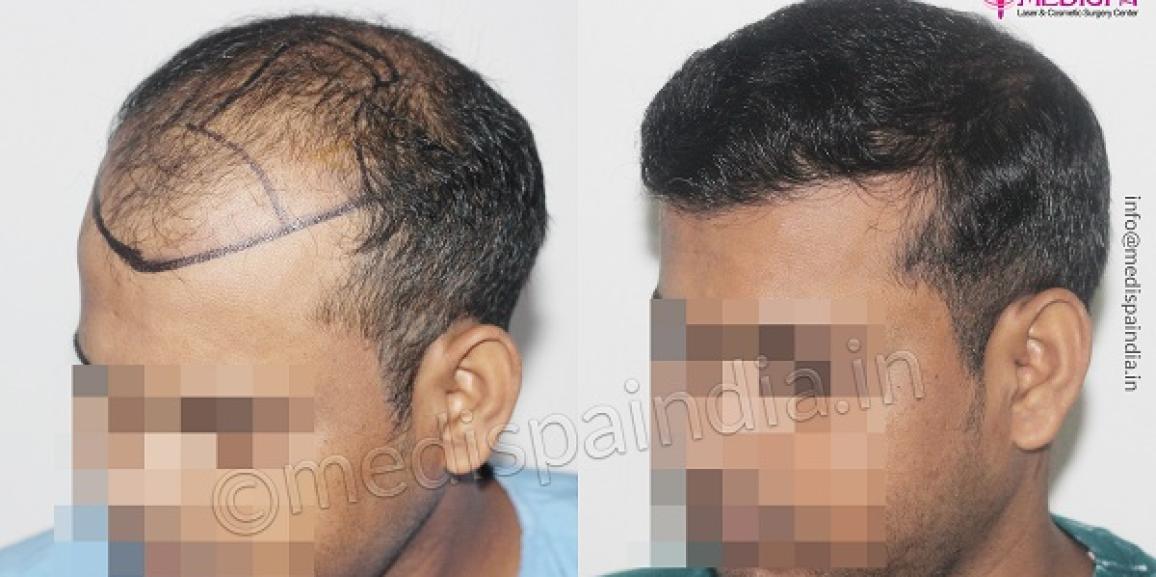 For some of us, hair loss is an undesirable occurrence that requires medical attention. In urban areas, where professions need both a strong personality and good appearance even for highly skilled candidates, the effects of hair loss are particularly noticeable.
The most popular method of treating baldness is hair transplantation, and hair transplant in Jaipur has been identified as the top location for those with hair loss to undergo the treatment. Hair loss patients travel to Jaipur for the treatment mostly because of the world-class care and flawless results provided by a select few well-known hair transplant clinics, not merely because of the hair transplant cost in Jaipur.
Hair transplant methods are widely recognized for their ability to yield exceptional results when performed by skilled practitioners. This restorative treatment is transplanting hair grafts to the targeted bald region after they are harvested from donor sites, which are particularly places with permanent hair roots.
Although the initial hair transplant procedures were not able to produce perfect results, the introduction of cutting edge technology has greatly increased the success of this procedure. Being a pioneer in the area for many years, Medispa Hair Transplant Clinic has produced over 10000 successful hair transplant tales, making us one of the most popular travel locations for hair transplant tourism. Dr. Suneet Soni performs all hair transplants using his specialist abilities and does not increase the value of his brand by launching franchises because he believes in excellence and will not engage any other doctor to execute the process.
His unique expertise of creating a hairline that seems extremely natural has made him one of the most renowned hair transplant surgeons in the nation.
High grade baldness: what is it?
Advanced baldness, most likely grade VI or VII, is referred regarded as "high grade" baldness. When it comes to grading, the seven phases of the Norwood classification are the most widely used categorization for baldness. The bald region colesces and grows larger, starting from the frontal and vertex areas and ending in a band of hair at the back and sides of the head.
HAIR TRANSPLANT: WHAT IS IT?
A hair transplant is a type of cosmetic surgery used to cure balding scalps and sparse hair development in the brows, moustache, and beard parts of the face.
Hair follicles are harvested from selected donor regions and transplanted to the intended locations as the fundamental step in a hair transplant procedure. The most prevalent reason why patients seek hair transplant treatment is hair loss or thinning. These days, if someone is unhappy with their current hairline, they may also go for a hair transplant to reconstruct their hairline.
Donor area: The regions from which hair roots are removed are referred to as the donor area in a hair transplant. The permanent hair roots' place of residency determines which donor locations are chosen. The back and sides of the head, chest, axilla, beard, etc. are popular donor sites.
Recipient or bald area in hair transplant: The region that has to be treated for hair loss is referred to as the recipient site or the bald area.
Only your own hair may be used in the hair transplant surgery; fake or borrowed hair is not permitted. The hair transplant is now the greatest treatment option for hair loss, however it may not be possible for you depending on your particular circumstances. To ensure that the process is feasible, you must first consult.
How can I choose the hair transplant procedure that will work best for me?
You may wonder what factors impact the surgeon's choice when it comes to hair transplantation. Let's now look at the factors that affect the hair transplantation process:
Patient sex: FUT hair transplantation is advised for female patients because of its higher hair graft yield. Females with hair loss need more hair follicles due to core thinning, and they also need to employ a no-shave strategy.
Level of baldness: The degree of baldness determines the hair transplant technique. More hair transplants would be necessary for more severe cases of baldness, which is why FUT hair transplantation is suggested.
Hair density at the donor site: Since FUT can extract more hair grafts from a smaller area, it might be a viable option if the donor site lacks enough hair follicles.
The number of hair grafts needed: If more grafts are needed to finish the hair transplant, FUT technique might be recommended; if fewer grafts are needed, FUE technique might be used.
Patient preference: While hair transplant doctors advise the full procedure, the patient's preferences are also important. As a result, the procedure is mostly determined by the patient's preferences.
How should patients with high degree baldness select their hair transplant technique?
Today, treating high grade baldness is a reality, although in the past it was merely a dream. A couple of the more advanced techniques that have been developed to date can successfully treat severe baldness if the circumstances allow. Usually, the following techniques are employed to treat high-grade baldness:
FUT hair restoration: In cases of severe baldness, up to 3500 hair transplants can be needed. To retrieve each individual hair transplant, a little strip is extracted and then dissected under great magnification. In situations when there are not many donor hair follicles, this method may be helpful as it extracts more hair grafts from a smaller area.
FUT and FUE combo technique: This method is recommended when treating severe baldness and more than 4000 hair grafts are needed. The FUT technique is given priority, and the remaining fraction is removed using the FUE technique, with the goal of extracting as many hair follicles as possible utilizing the combined approach.
Combination FUT, FUE, and BHT technique: This method is used when more hair grafts are needed, like in situations of advanced grade baldness or high density hair transplants. The process collects hair transplants from many donor places on the body, particularly under the chin, in addition to FUT and FUE.