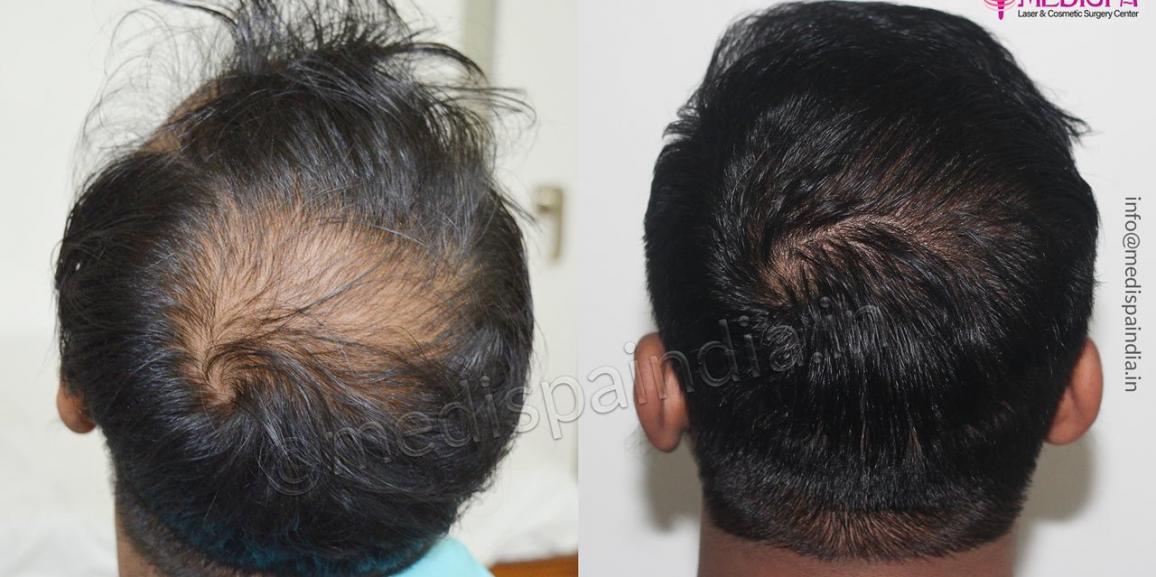 Males and females alike may have hair loss, which is heart-breaking in both cases. Numerous factors can contribute to hair loss, but genetic malfunction is by far the most frequent. Other factors include hormonal imbalance, systemic illnesses, the use of antidepressants, antipsychotics, and antianxiety medications, as well as chemotherapy or radiotherapy. Stress, pollution, and poor nutrition are some of the variables that contribute to hair loss and intensify the effects of other factors.
Male pattern baldness
Androgenic alopecia, often known as male pattern baldness, is brought on by genetic malfunction that causes the hair follicles to be too sensitive. The effects of excessive sensitivity to the androgenic hormone metabolite (DHT hormone) cause the DHT-sensitive hair follicles to weaken and shrink, which eventually results in hair loss. Baldness develops over time as a result of this ongoing process involving numerous hair follicles. Males over the age of 30 are typically affected, while it may also have an impact on people younger than that.
Pattern of hair loss in male pattern baldness
Because the hair follicles in the frontal and vertex areas are DHT sensitive, these areas are where most male pattern baldness hair loss occurs. The gradual loss of hair causes the bald zones in both regions to grow wider until they eventually merge to form a larger bald area as people age. In the back and side of the head, the later phases leave a band of hairs. The back and sides of the head are unaffected because they are DHT-resistant and do not change as a result of genetic impact.
The hair follicles on the sides and back of the head are resistant to DHT, which keeps them healthy for life. The idea behind hair transplantation is that the hair follicles from DHT-resistant areas are transplanted to the bald area, providing results that are permanent and long-lasting.
When should we see the doctor for hair loss issue?
When between 50 and 100 hairs are shed, hair loss may be considered typical. However, if you notice a flock of hairs in the sink, on pillows, or in a comb, or if the hair fall contains more hairs, these could be early indications of hair loss. In order to rule out the potential causes of hair loss and choose a potential treatment, it is preferable to see a doctor as soon as you see these early indicators of hair loss.
In the early stages of an illness, a doctor will typically prescribe drugs like minoxidil, an over-the-counter ointment, and finasteride, an oral prescription drug. Although these drugs are helpful, it's not certain whether the effects will last. It has been discovered that the outcomes relapse following cessation of medicines.
In addition, hair transplant is recommended as the most effective permanent treatment for hair loss. Being a surgical treatment, it is important to check that each case can be handled before arranging the procedure. You must see a hair transplant surgeon to check your candidacy. The surgeon will examine your entire scalp and consider other factors before approving or rejecting your application.
According to the high standards offered by a few clinics, hair transplant cost in Jaipur is pretty reasonable. One such clinic offering top-notch hair transplant in Jaipur at a reasonable price is the Medispa clinic.
Pattern baldness treat by hair transplant
Perhaps you're wondering if a hair transplant is the best treatment for baldness. The only long-term solution to baldness at this point is a hair transplant, thus the answer is a resounding yes. As the transplanted hair follicles follow the same cycle of hair growth as your original ones, the treatment results in natural hair growth.
Speaking of inconvenience, the treatment is absolutely stress-free because there is no need to maintain the transplanted hair once the healing process is complete. The hair transplant is a painless process because it is carried out under local anaesthetic.
If the treatment is carried out by the proper hands and using the most recent technology, the outcomes of a hair transplant would be quite aesthetically pleasing. With the use of modern procedures, hair transplantation could promote the most hair growth in a single session.
If a hair transplant is an option in your case, pattern baldness may very well be addressed with one. But only when it is carried out by qualified personnel can the method guarantee success.
To give your aspirations wings, make an appointment at the Medispa hair transplant clinic in Delhi or Jaipur right now.