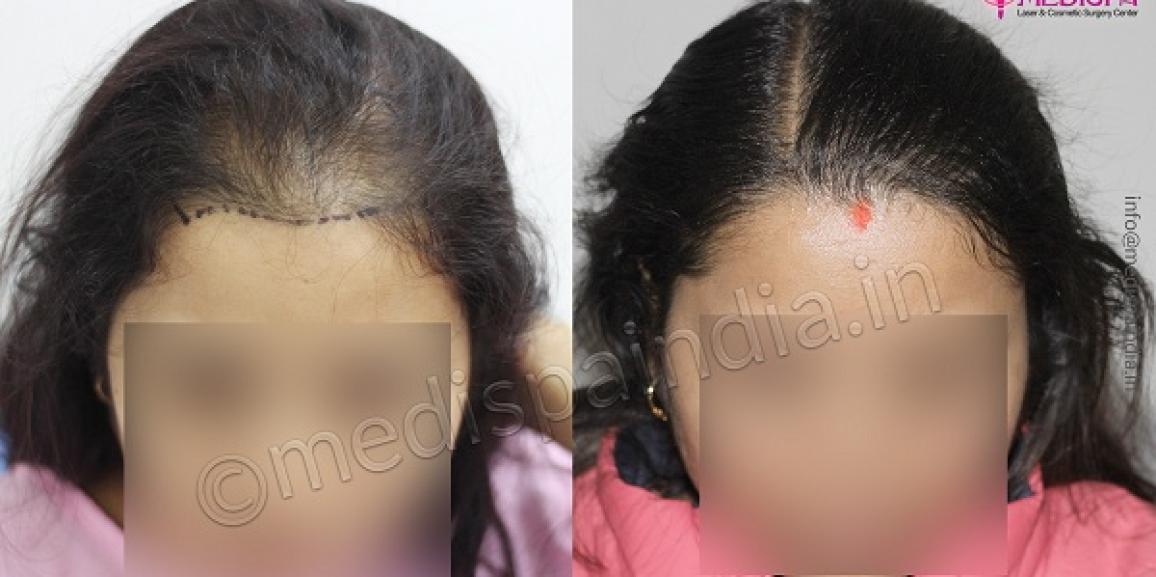 While considering a hair transplant as a treatment for hair loss, many ifs and buts come to mind. Whatever medical procedure you are having should make you cautious. Because to people's increased awareness of the value of aesthetics in their lives, hair transplantation has become a highly common procedure. However, this does not imply that there are no risks associated with the surgery or that you can trust any clinic or surgeon for your hair transplant.
One of the top hair transplant clinics in Jaipur and Delhi, Medispa Center assures you that your hair transplant will be successful since they are confident in their ability to put together the greatest team of hair transplant surgeons and support personnel. Dr. Suneet Soni is the greatest hair transplant surgeon in Jaipur has to offer if you're seeking for a hair transplant in Jaipur. You receive results that are unquestionably permanent and natural because to his artistic approach and surgical skills. The hair transplant cost in Jaipur is fairly reasonable, and the medispa clinic offers top-notch care at an accessible price.
Here are some hair transplant-related details that you should be aware of before making your decision.
What is hair transplant?
A hair transplant is a restorative surgery that entails removing follicular grafts from a donor site—which could be any portion of the body depending on the availability of hairs—and transplanting those grafts into the recipient location.
FUT (Follicular Unit Transplantation, often known as the strip procedure), and FUE are two of the methods used to accomplish hair transplants (Follicular unit extraction). First, using the FUT procedure, a thin strip from the back and side of the head (the donor area) is removed. Next, under extreme magnification, grafts are separated and transplanted to the recipient site. Second, the FUE technique involves punching out individual hair follicles from the donor location before grafts are implanted in the recipient site.
In cases when more than 4000 grafts are needed, the combination approach of FUT + FUE is now used because it offers additional advantages to either technique alone.
Which technique to opt for?
The standard hair transplant method starts with local anaesthesia being applied to the donor and recipient sites, and then grafts are taken from the donor location. The recipient site is first prepared for the implantation of these follicular transplants once the grafts have been harvested. After receiving the necessary instructions to be followed, the patient is discharged for the day following implantation. A professional hair wash appointment is scheduled for the following day.
Based on graft harvesting processes, there are two main methods for hair transplantation.
FUT (follicular unit transplantation, often known as the "strip technique"): With this approach, a thin strip is removed from the donor site before being dissected into individual grafts and implanted.
FUE (Follicular unit extraction): This treatment uses a surgical tool to harvest individual follicles from the donor area, which are then implanted.
Will my hair transplant would deliver permanent and natural results?
It is commonly recognised that the hair transplant is the only technique that produces long-lasting, natural results. The hair follicles that are lost during hair loss are DHT-prone follicles that serve as hormone receptors and go through thinning and shrinkage before losing hair. The frontal area and vertex area are the areas where hair is lost most frequently throughout this process.
Implanting DHT resistant follicles, which are insensitive to the DHT hormone and do not get impacted and remain for life, is the foundation of hair transplantation. The occipital region of the head is where these hair follicles are situated (back and side of the head). In order to acquire lasting results, hair follicles should be carefully extracted close to a safe donor area. As a result, transplanting this hair delivers permanent effects.
Regarding the naturalness of results, this aspect of hair transplantation is largely dependent on the skills of the surgeon you choose. The successful delivery of a natural result is facilitated by knowledge of the arrangement, alignment, and angulations of hair follicles during implantation. Using current advancements in trichophytic closure in FUT and using the right punch size in FUE results in practically undetectable scars, giving the outcomes a natural and undetectable appearance.
Hair transplant: Recovery
Most individuals who have had hair transplants can return to their regular jobs the very following day. When the postoperative recommendations are rigorously followed for faster healing and growth, the physical recovery period followed by the hair transplant process typically lasts 7 to 10 days. PRP therapy is a more recent technique that is now widely used to promote quicker healing and growth at the recipient site.
As is rumoured, a hair transplant does not immediately result in a head covered in hair; instead, it takes months for the seeds to bear fruit. Each newly transplanted follicle is in the stage of the hair cycle that it will reach in its own time. After a hair transplant, it is common for all of the freshly transplanted hair follicles to fall out after two to three weeks. This could come as a shock to you after spending such a large sum of money.
After 3 months of waiting following the hair transplant process, the beginning of noticeable growth takes place, and it grows further gradually. You can observe some growth in 6 months, which may be patchy at first but becomes evenly distributed with time. During 8 to 12 months after the hair transplant, when you can be certain of the procedure's outcome, you may see a noticeable amount of growth.