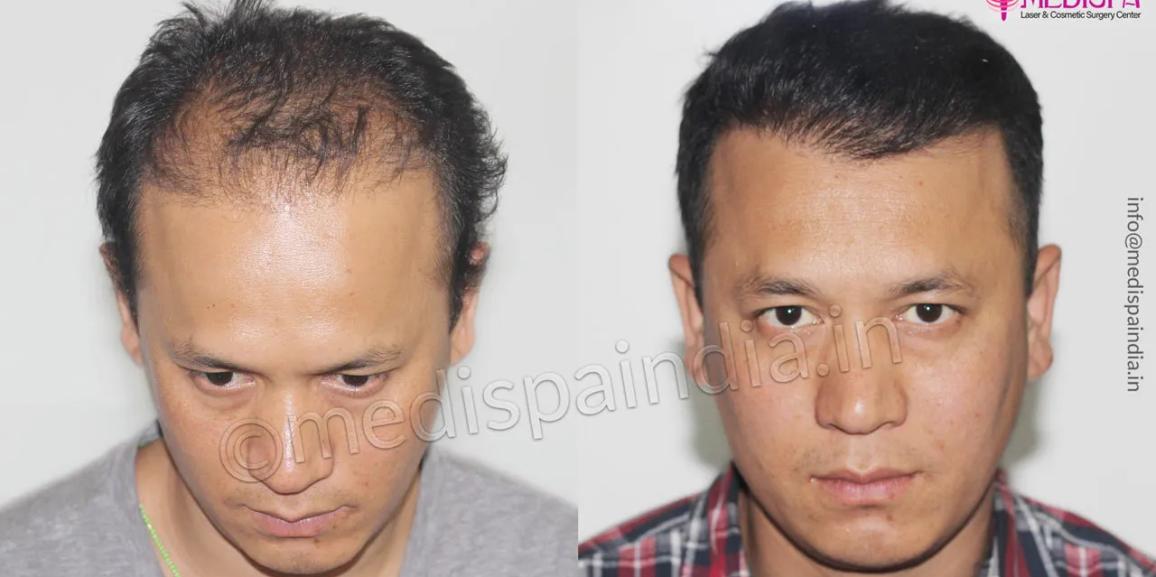 Prior to making a selection, it is important to ascertain the cost of a hair transplant at reputable, accredited clinics in India. After determining a reasonable spending limit, look for a hair transplant clinic.
If you don't focus your search, you'll most likely end up with a reasonable hair transplant – something you never would have sought. As a result, it's critical to rely on premium hair transplants and to see affordability as a secondary factor.
The good news is that Jaipur offers plenty of reputable hair transplant centres if you're in the market for hair transplants. You may undoubtedly receive a high-quality hair transplant in Jaipur, if you research diligently. One of the best locations for a top-notch hair transplant is the Medispa hair transplant clinic. In fact, you can get the finest results if you're looking for affordable hair transplant cost in Jaipur.
Growing costs have made hair transplant treatments in Jaipur more affordable, but you still need to make a cautious decision because there are a lot of cheaper choices that you should stay away from.
The Medispa hair transplant clinic in Delhi and Jaipur has revolutionized the hair transplant industry by offering outstanding results and amenities to thousands of patients who have trusted us with their hair transplants. We sincerely believe that the best results and a flawless hair transplant may be achieved by closely attending to even the tiniest details. Dr. Suneet Soni is well renowned globally for his remarkable skills and keen sense of style. The majority of his patients call him "masters of creative talents," and he's become quite well-known among celebrities due to his incredible ability to create hairlines that seem entirely natural.
What causes hair transplant failure?
The goal of the very effective hair transplant technique is to cover a significant portion of the bald region with hair. The results of the operation are completely natural and go beyond simply covering the bald region. However, this is not every person's tale or experience with hair transplantation. How come?
It's because of the decision you made!
The majority of hair transplant candidates base their decision mostly on the expense of the process. Your priorities should ideally be the surgeon's and the clinic's caliber, after which the selected clinic's price should be assessed. When getting a hair transplant, the ideal clinic that is both economical and of high quality is the one you should choose.
What steps can we take to avoid a botched hair transplant?
It's a rather easy solution!
The secret to a successful hair transplant is a laborious search for the best hair transplant clinic. Therefore, the most crucial thing to do if you want to get a hair transplant is to select a qualified surgeon to undertake the surgery.
If a hair transplant fails, the grafted hair follicles would suffer significant damage, the hairline would be unnatural, the scars would be obvious, and the hair growth would not be enough. There are many reasons why your hair transplant may not have succeeded, but there is only one way to be sure it will: put your confidence in the top hair transplant clinic, which can ensure you a hair transplant that is both safe and effective.
Why are more hair transplant treatments necessary?
Hair loss caused by genetics is always progressive and irreversible. Many remedies claim to be able to stop hair loss, but they don't seem to be very effective. Hair transplantation is commonly thought to be the solution to halting hair loss. In actuality, though, not even hair transplants or other procedures could do this. For instance, a hair transplant is not a regenerative procedure that may restore damaged follicles. Consequently, hair follicles lost as a result of hair loss are not capable of growing again. Future treatments may be required to cover the bald region as it progresses due to the loss of existing natural hairs.
The rate of hair loss is higher in younger individuals in particular, which raises the possibility of repeating hair transplant procedures.
More visits are required to achieve the desired results since it takes many sessions to cover a large bald region.
How can the hair grafts be preserved for use in future hair transplant procedures?
Priority one should be given to choosing a licensed hair transplant surgeon who will carefully perform the procedure in order to protect the hair grafts for future sessions and long-term benefits.
Graft preservation: The hair transplants can be kept alive in a variety of methods. It is important to use caution to avoid damaging hair transplants when transferring them from the donor location to the recipient site. Take great care when harvesting the grafts at a high magnification to ensure their survival. To avoid damage, the graft needs to be treated carefully during transplanting.
FUT method: Maintaining the appropriate number of hair grafts for consecutive sittings requires the use of the correct hair transplantation technique. The FUT hair transplant technique preserves a greater quantity of hair grafts than FUE does. A thin strip can be harvested during the FUT process, and more strips may be collected during up to three successive sittings. When more than 4000 hair transplants are needed to treat severe baldness, a combination of FUT and FUE methods is recommended.