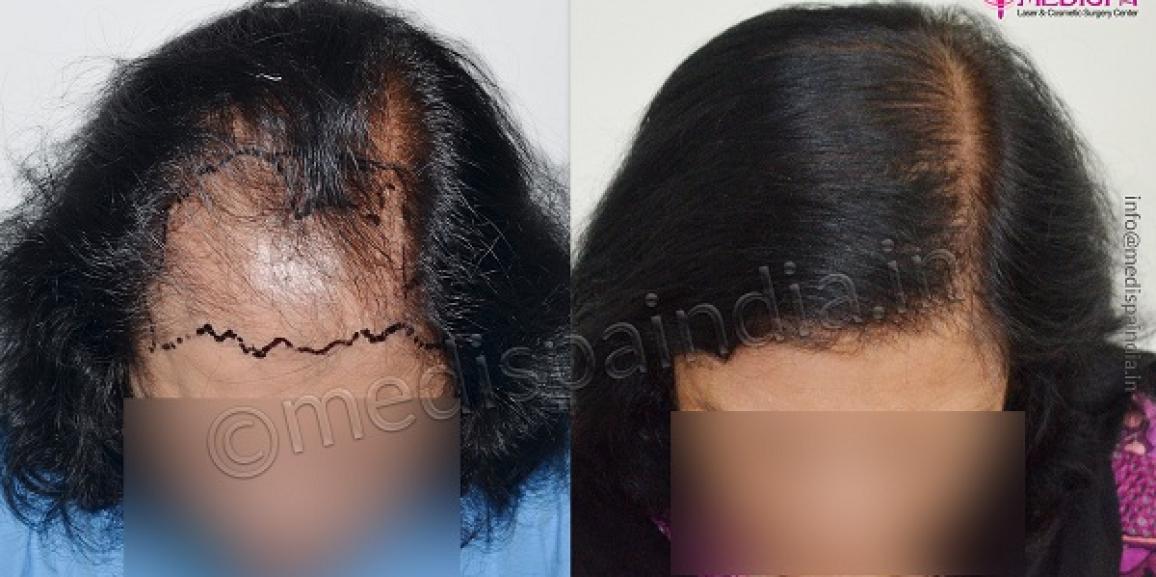 When it comes to female hair loss, the adage "the more the hair loss, the greater is the psychological impact, the worse it is" seems to ring true because hair plays a major role in enhancing a woman's appearance. When it comes to hair loss, men are also devastated, but women have a much greater social impact. But thanks to advances in science and research, a hair transplant procedure has been developed that can permanently address the problem of hair loss, whether it affects men or women.
Do you have any doubts about whether or not hair loss is right for you?
Don't worry; female hair transplant is just as successful as those performed on men. Visit India's top-rated and internationally renowned hair transplant clinic, Medispa, in Delhi or Jaipur to determine your eligibility for a hair transplant.
Let's move on to the information section and learn important facts about the hair transplant procedure.
Why do women get hair transplants?
These days, hair loss is a problem that affects both men and women. This is due to the environment and our way of life. Everyone is aware of the negative effects hair loss can have on a woman's personal, social, and professional life, particularly in jobs that require her to interact with clients. You can anticipate that people who are experiencing hair loss will have less confidence, and if you want to restore it, you can look for a permanent solution, such as a hair transplant.
Therefore, today, the question shouldn't be, "Why do women get hair transplants?"
It should actually be why not in females.
A female hair transplant has a high success rate and is equally effective. Following a hair transplant, you can anticipate undetectable, natural-looking results. Therefore, why not choose a long-term solution to the hair loss problem?
Because hair transplant in India is fortunately very affordable, tourists from all over the world prefer to travel to India for hair transplants.
But is the high patient volume in India due solely to the cost?
Evidently not! Only a few hair transplant surgeons from India have managed to make the list of top hair transplant doctors worldwide. These doctors treat a lot of patients and offer the best amenities, uphold international standards, and maintain the best hair transplant outcomes at competitive prices.
Various methods for female hair transplantation
After reading about hair transplants, you may have learned about FUT and FUE hair transplant. Yes, these are the two procedures required for hair transplantation, and they are described as follows:
The FUT hair transplant method is typically indicated for females, which may be because of the following reasons, which are further explained below:
A thin strip from the donor area is removed during a FUT hair transplant, and the strip is then divided into individual hair grafts. The chosen bald area is then implanted with each of these individual hair grafts. Trichophytic closure, a new technique that allows for healing the donor site with almost invisible scarring, is also used to suture back the donor area.
FUE hair transplants are carried out by pulling or tractional forces applied by a punch-like surgical tool to extract hair grafts from the donor areas. By using intuition and experience to determine the direction of the hair root, the procedure entails the extraction of hair grafts. The chosen bald areas are then treated with these extracted hair grafts.
The FUT hair transplant method is typically indicated for females, which may be because of the following reasons, which are further explained below:
Due to central thinning, female hair transplants require more hair grafts, and the FUT technique allows for a higher yield of grafts to be harvested.
With FUT hair transplants, it is usually possible to avoid shaving in females.
In addition to hair transplant techniques, female patients undergo different procedures than male patients, and the majority of them opt for the no-shave method. The donor areas are prepared with micro slits to maintain the no-shave method. The transplanted hair follicles are then placed in the ready micro-slits. Extreme caution must be used when transplanting the hair follicles to avoid damaging the existing hair that is already nearby.
Why choose Medispa for female hair restoration?
As stated above, hair transplant in females is a challenging procedure that requires high levels of expertise, so you are well aware that relying on a novice could be very risky because you cannot predict the results. Why not choose the best option in that case?
Since more than a decade ago, Medispa hair transplant has been renowned for its excellence. Therefore, if you're searching for the best, you've come to the right place. For the best results, go to the Medispa hair transplant clinic. Find out why Medispa Hair Transplant Clinic is a good choice for hair transplantation now.
We are one of the top hair transplant clinics in the world and have won awards for our work.
Our country's top hair transplant surgeon is Dr. Suneet Soni, whose abilities set him apart from his contemporaries in the field.
The best and largest hair transplant team in the nation is at our disposal.
We perform flawless hair transplants using cutting-edge technology, which will undoubtedly put a smile on your face when you have an appealing appearance and regain your confidence.
You are secure with us and can get amazing outcomes without any hassles.
Our team, along with Dr. Suneet Soni, ensures that you receive an amazing hair transplant and a spellbinding hair transplant experience that will erase memories of hair loss incidents.